A few years ago, I had the blessing to visit the Carmelite monastery in Terre Haute, Indiana. Since that time, their community has really blossomed with young vocations! There are twelve solemnly professed sisters, one who has professed temporary vows and 3 novices. They also have 2 sisters living with them from China who are learning skills for forming young sisters. All this adds to a vibrant community!
If you would like to learn  more about their life as Daughters of St. Teresa of Avila, there is an opportunity coming up. The nuns are hosting a discernment retreat weekend on May 26-28, 2017, at their monastery. During the weekend, you will have the opportunity to learn about the Carmelite way of life and participate in their monastic schedule, inside the enclosure of the monastery. You will also join the nuns for Mass, recreation and meals. What a privilege!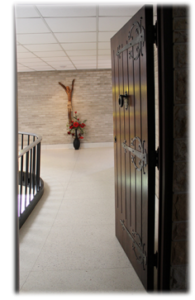 The monastery can trace their roots back to the foundation of the United States and almost back to St. Teresa herself!  Here is a brief summary of their history:
The journey in Terre Haute began on the Feast of the Holy Rosary on October 7, 1947. The bishop wanted a second Carmel in his diocese to be a presence of prayer in an area where there were few Catholics.  The Indianapolis Carmel, who responded this this request, traced its own roots back to the Bettendorf and Baltimore Carmels, to the original foundation made at Port Tobacco in 1790. This Monastery was the first house of Catholic religious women founded in the original thirteen colonies of the United States of America. The nuns who founded Port Tobacco, in turn, came from Hoogstraet Carmel in the Lowlands. Hoogstraet Carmel was under the direct influence of Blessed Anne of St. Bartholomew, St. Teresa's trusted companion and nurse, who had spread the Holy Mother's vision of Carmel into countries and cultures far beyond its birthplace in Spain.
For more information about the discernment weekend, please contact Sr. Clare Joseph, OCD, at vocations@heartsawake.org or visit www.heartsawake.org.