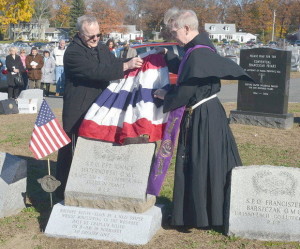 Last week, on June 6th, the Western World remembered all of the soldiers who lost their lives on the D-Day beaches of Normandy, France, in 1944. On this 70th anniversary, one man was remembered in particular, Fr.Ignatius Maternowski, OFM Conv. Fr. Ignatius is believed to be the only Catholic chaplain who was killed on the day of the Allied landings.
Father parachuted in with members of the 508th Parachute Infantry Regiment of the 82nd Airborne Division. Father landed safely near Guetteville and sought out a place where the injured could be treated. He then crossed enemy lines to seek out his German counterpart to see if he could set up a common hospital. Clearly displaying his red cross arm band and chaplain insignia, he was nonetheless shot in the back by a German sniper. He was 32 years old.
Father's body lay where he was shot for 3 days until the Allies could move in. His body was buried in a cemetery near Utah Beach. Later, his  remains were exhumed and reburied in the Franciscans' Mater Dolorosa Cemetery in South Hadley, Massachusetts. Father was a Holyoke native.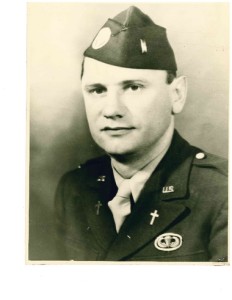 "His quiet heroism is the stuff of legend," said Conventual Franciscan Father James McCurry, minister provincial of Our Lady of Angels province. He exemplified "goodness and self-sacrifice above the call of duty."
Fr. McCurry was present in Normandy during the ceremonies and told the people of Guetteville, "I stand here today on this hallowed ground, in my role as Father Ignatius's next of kin – his Franciscan brother. Permit me to thank the good people of Guetteville and Picauville for the loving attention that you continue to show to his memory."
The marker on his grave reads: "No Greater Love."