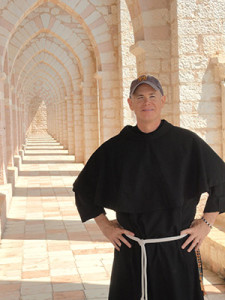 Looking for a good DVD to while away the summer evenings? Check out Friar John Clote's documentaries on a wide array of fascinating Catholic topics.
I first met John when I went to a preview of his film, "Ocean of Mercy," the story of Pope John Paul II, St. Faustina, St. Maximilian Kolbe, OFM Conv., and Divine Mercy. Amazingly, as John points out in the documentary, the three lived in Poland at the same time yet did not know each other.
Friar John is a Conventual Franciscan friar who is studying to become a priest. He has taken a circuitous route to the priesthood having been in the mainstream television news world and Catholic radio. His latest work is called: "Purgatory: The Forgotten Church" (released in 2013 by Lightbridge, a ministry of the Conventual Franciscans of Saint Bonaventure). Others subjects he has beautifully illuminated include such notables as Pope St. John Paul II, Ven. Solanus Casey, Bl. Francis X. Seelos and St. Maria Goretti.
He began his media career at NBC news and laments the negative perception that the media has of Catholicism. "They have a kind of a rabid hatred of the church, and it's rather disturbing, to be honest," he said. "You have to wonder where all that comes from. I think it comes from (the fact that) the church is the only public institution that consistently has said that there is such thing as sexual morality, there is such thing as abortion and pro-life, their stance on assisted suicide, on accountability – all of those things."
As a child, John chose the confirmation name "Francis," and here he is many years later preparing to be a Franciscan priest! He is currently assigned to the Basilica of St. Josaphat in Milwaukee. God willing, John will be ordained to the priesthood in May 2016.
a solemnly professed friar assigned to the Basilica of St. Josaphat in Milwaukee – See more at: http://clarionherald.info/clarion/index.php/news/latest-news/155-breaking-news/3422-friar-researched-purgatory-dvd-with-local-help#sthash.OfyRTmx4.dpuf
Check out the complete story in the Milwaukee Catholic Herald.