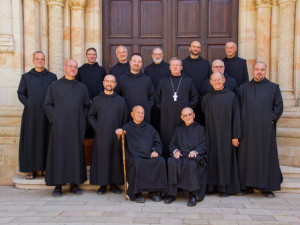 Many people are aware that the Franciscans are an ever-present presence in the Holy Land. The familiar Jerusalem cross above a door indicates that the Franciscans are the guardians of that particular (usually) holy site and all are welcome to come in.
But the Benedictines are also in the Holy Land at the Church of the Dormition of the Blessed Virgin Mary, the Church of the Multiplication of Loaves and Fishes on the Sea of Galilee (Tabgha Priory), and at Abu Ghosh, where the Ark of the Covenant rested for twenty years. Fittingly, the Church in Abu Gosh is called Notre Dame de l'Arche d'Alliance (Our Lady of the Ark of the Covenant). Mary can be seen at the top holding the infant Jesus in her arms.
The National Catholic Register recently interviewed Fr. Mark Sheridan, a Benedictine monk at Dormition Abbey on Mount Zion in Jerusalem. He will celebrate 50 years in the priesthood in February 2015. In the lengthy interview, Fr. Sheridan describes the complex and fascinating life of a Benedictine in Israel.
In 2012, he founded Friends of the Benedictines to "provide financial support the religious, charitable and educational activities of the canonically established monastic communities following the Rule of St. Benedict in the Holy Land." Their life in Israel is precarious. They rely on pilgrims to support their activities including special assistance to those in need. In unsettled times like today, they suffer.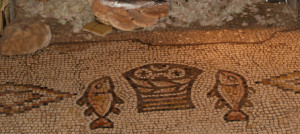 If you are fortunate to go to Israel and can get away on your own, I highly recommend checking out a stay at the Tabgha guesthouse on the Sea of Galilee. It is located in one of the quietest and most beautiful places in Israel. In the 1930's, this site was excavated and lo and behold they discovered a 1000+ year old Byzantine Church. The ancient mosaics can still be seen in the new Church erected on the site. Also in Tabgha are the Benedictine Sisters from the Philippines from the Congregation of the Benedictine Sisters of the Eucharistic King. They care for the many Filipino workers in Israel.
In the Rule of St. Benedict it says that all guests who present themselves are to be welcomed as Christ (Chapter 53). The Benedictines in the Holy Land continue this practice, receiving pilgrims, Christian and non-Christian alike, showing them the door to Christ.