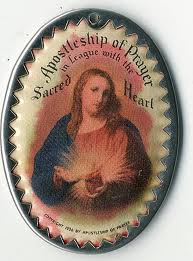 The Holy Father's prayer intention for the month of April as announced by the Apostleship of Prayer is:
"that many young people may hear the call of Christ and follow him in the priesthood and religious life."
Amen to that!

And the Pontiff's mission intention is "that the risen Christ may be a sign of certain hope for the men and women of the African continent."
The Apostleship of Prayer promotes among other things the offering of each person's daily prayers, works, joys and sufferings to the Lord. Begun in France in 1844 by a group of Jesuit seminarians, the Apostleship of Prayer is truly the Pope's own "prayer group." It is, as Pope John Paul II wrote in 1985, "a precious treasure from the Pope's heart and the Heart of Christ."
The US National Director is Fr. James Kubicki, S.J., an IRL Board Member. Visit their website for morning offering prayers, the monthly intentions, reflections and much more.