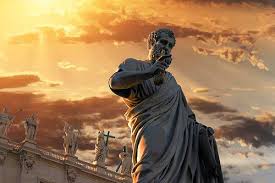 At the IRL National Meeting banquet, held on April 6, 2013, Mother Mary Clare Millea, ASCJ, received the Pro Fidelitate et Virtute award from the IRL in recognition of her extraordinary fidelity to the consecrated life, as well as her tireless dedication as a daughter of the Church. Mother is Superior General of the Apostles of the Sacred Heart of Jesus and was the Apostolic Visitator for Institutes of Women Religious in the United States.
In the news yesterday was the report that Pope Francis reaffirmed the findings of the Assessment and the program of reform needed by the Leadership Conference of Women Religious (LCWR). Archbishop Gerhard L. Müller, the prefect for the Vatican's doctrine congregation and Archbishop J. Peter Sartain of Seattle, who was named to carry out the reform of the group, met met in Rome with conference president Sister Florence Deacon on April 15 among others.
Archbishop Müller thanked the sisters for their "great contribution" to the Church, "as seen particularly in the many schools, hospitals, and institutions of support for the poor" that have been founded and staffed by religious. The assessment noted that while the LCWR promotes social justice issues, it largely ignores matters of life, marriage and sexuality, which have played a large role in recent public debates. At their conferences, the talks included those with "radical feminist themes incompatible with the Catholic faith."
Let us all pray that the LCWR, the affected communities, and those responsible for carrying out the reform may act in good faith, with the help of the Holy Spirit and strive to achieve the unity under Holy Mother Church so desired by our Lord.
For more information, see the Catholic News Service.