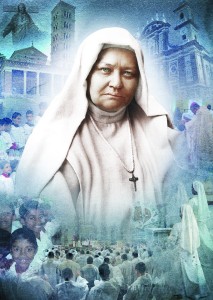 Last October, a group of forty-one pilgrims consisting of sisters, their relatives, priests and lay people from the Diocese of Youngstown made a pilgrimage to Italy for the beatification of Mother Maria Teresa Casini, foundress of the Oblate Sisters of the Sacred Heart of Jesus, which took place on October 31, 2015.
Mother Casini founded the Oblate Sisters in 1894 in Grottaferrata. Their charism is to pray for the sanctification of priests and the holiness of the Church. Mother was beatified in the Frascati cathedral where she was baptized in 1864, two days after her birth.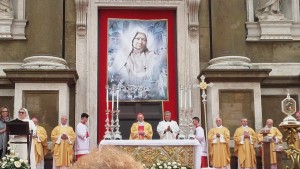 For the Oblate Sisters from Hubbard, Ohio, this was an extra-special event because the miracle required for Mother's beatification occurred in their own diocese. In 2003, five-year-old Jacob Sebest of Campbell, Ohio, was diagnosed with irreversible brain damage after a swimming pool incident. Two days later, on the feast of the Sacred Heart of Jesus, after intense prayer to the Sacred Heart of Jesus through the intercession of Mother Teresa Casini, young Jacob miraculously awoke from a medically induced coma without any signs of brain trauma. Today he is a healthy, vibrant 17-year-old and a senior in High School.
The day before the beatification, the pilgrims visited Grottoferrata where Mother first established the congregation and where she later died in 1937. They prayed before the historical tabernacle that depicts her vision of the Pierced Heart of Jesus. They also venerated a relic, a braid of Mother's hair that was cut off when she made her first profession of vows. Unbeknownst to her, said Sr. Joyce Candidi, O.S.H.J., it was preserved "by those who sensed that one day she would be recognized for her great love and heroic virtues."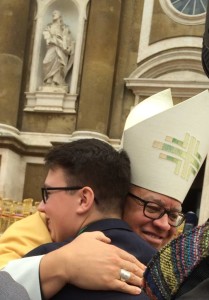 Jacob and his family were able to make the trip to Italy and greet the Holy Father in Rome after the beatification along with the General Superior and General Counselor of the Oblate Sisters. On the Feast of All Saints, Pope Francis said: "(Mother Teresa Casini) was a contemplative woman and missionary; she made her life an offering of prayer and concrete charity in support of priests. Let us thank the Lord for her witness!"
On November 2nd, Bishop George Murry, S.J., celebrated Mass for the pilgrims in the crypt of St. Peter's Basilica at the site of St. Peter's tomb where they gathered to pray in thanksgiving once again for the life and holiness of Blessed Mother Teresa Casini. After the return home, one pilgrims observed, "As each day goes by, it continues to sink in that we experienced life-changing, as well as once-in-a-lifetime events."
The Diocese of Youngstown is planning to celebrate Mother Casini's beatification on Sunday, May 22, 2016, at St. Columba Cathedral.
See additional photos from the trip on Facebook.