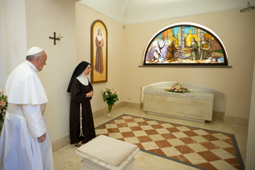 On August 11, 2013, the Poor Clares opened up a "Poor Clare" museum in Albano, Italy,  near Castel Gandolfo (the summer home of the Popes) and on August 15th they had a most illustrious guest: Pope Francis himself! The Holy Father spoke with the nuns and prayed at the tomb of Sr. Maria Chiara Damato whose cause for canonization is underway.
The Poor Clares of Albano suffered grievously during World War II.  As the Allies marched north in Italy, they took to heart Pope Pius XII's plea and the entire community offered themselves "as victims for the longed-for peace in the world."
On February 1, 1944, a bomb fell nearby, shattering the stained glass windows in their chapel. As they were recovering from the shock of this blow, a second bomb made a direct hit on the monastery and several sisters were killed. The surviving sisters moved into temporary quarters which they shared with other refugees. In fact, over 40 babies were born to refugee mothers in the Papal apartments during the war.
On February 10th, bombs hit their temporary home resulting in great loss of life. Sr. Maria Chiara was one of the injured: "I am happy to suffer with Jesus suffering on the Cross, but with a happiness full of inner joy."  The suffering would not be wasted. Msgr. Giovanni Battista Montini, later Pope Paul VI, predicted that it would rebound on the community with a flourishing of vocations. Indeed, with the end of the war in 1945, vocations came.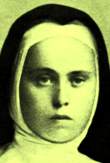 Sr. Maria Chiara of St. Therese of the Child Jesus was inspired to enter cloistered life in part because of the example St. Therese of Lisieux. In emulation of her namesake, she too asked to be afflicted with tuberculosis and offered her sufferings and death for the sanctification of priests. After caring tirelessly for the refugees, she died in 1948. She was only in her thirties.
When the now-Pope Paul VI visited the community in 1971, he paused in front of a stone slab that listed the names of the 18 sisters who died during the bombings. His visit, he said, had a purpose. It was "intended as a response to the tacit objection which viewed cloistered nuns as marginalized from life, from reality and from the experience of our time." He added, "You, who are faithful to the Rule, to life in community, to poverty, are a seed and a sign."
For more information, see the Catholic News Service article.