Pope Benedict's legacy will be felt for generations to come.
The National Catholic Register has an article about Pope Benedict XVI's impact on priestly vocations. Under his watch, the number of priests ministering to the Church worldwide has risen by 6000 men. The Archdiocese of Washington's new seminary is almost filled to capacity. Mount St. Mary's in Emmitsburg, Md. has more vocations than they have seen in years.
When Pope Benedict assumed the papacy  in 2005, Michael Roche was working at an accounting firm. These words from the Holy Father gave him the courage he needed to pursue his priestly vocation: Do not be afraid of Christ! He takes nothing away, and he gives you everything. … Open wide the doors to Christ — and you will find true life.  "That was pivotal in my life," the now-Father Roche told the Register. "I can't say I had been afraid of Christ, but I was not convinced that a vocation to the diocesan priesthood could be lived in this day and age." It could and it is.
To see Pope Benedict's final Apostolic blessing on the crowd in St. Peter's square (and I can't write these words without a lump in my throat), click here.
"There were also times when the water was rough and the wind against us,as in the whole history of the Church, and the Lord seemed to sleep. But I always knew that the Lord is in the boat, and I always knew that the boat of the Church is not mine, not ours, but it is His. And He will not let her sink, it is He who leads it, certainly also through the men he has chosen, because so He has willed it. This was and is a certainty, that nothing can obscure. And that is why today my heart is filled with gratitude to God because He has never left me or the Church without His consolation, His light, His love."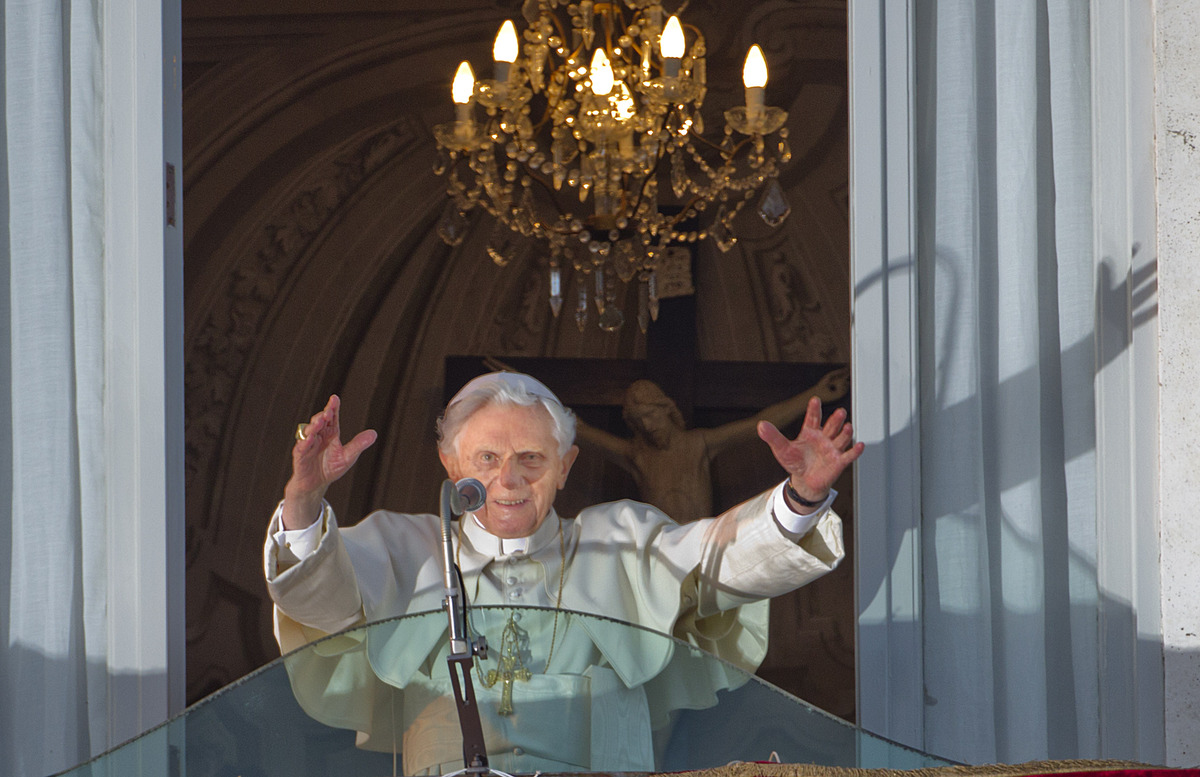 His final words from Castel Gandolfo….
Dear friends, I'm happy to be with you, surrounded by the beauty of creation and your well-wishes which do me such good. Thank you for your friendship, and your affection. You know this day is different for me than the preceding ones: I am no longer the Supreme Pontiff of the Catholic Church, or I will be until 8 o'clock this evening and then no more.

I am simply a pilgrim beginning the last leg of his pilgrimage on this Earth. But I would still … thank you … I would still with my heart, with my love, with my prayers, with my reflection, and with all my inner strength, like to work for the common good and the good of the church and of humanity. I feel very supported by your sympathy.

Let us go forward with the Lord for the good of the church and the world. Thank you, I now wholeheartedly impart my blessing. Blessed be God Almighty, Father, Son and Holy Spirit. Good night! Thank you all!"
It is 1:11 PM on Thursday, February 28, 2013. The doors at Castel Gandolfo have just closed, the papal flag has been taken down. Pope Benedict XVI's life of prayer has begun.