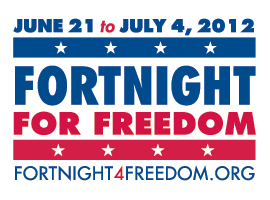 The US Bishops suggest that the fourteen days from June 21—the vigil of the Feasts of St. John Fisher and St. Thomas More—to July 4, Independence Day, be dedicated to this "fortnight for freedom"—a great hymn of prayer for our country.
Maybe at a minimum we can join the bishops in saying this urgent prayer for religious liberty.
Almighty God, Father of all nations,
For freedom you have set us free in Christ Jesus (Gal 5:1).
We praise and bless you for the gift of religious liberty,
the foundation of human rights, justice, and the common good.
Grant to our leaders the wisdom to protect and promote our liberties;
By your grace may we have the courage to defend them, for ourselves and for all those who live in this blessed land.
We ask this through the intercession of Mary Immaculate, our patroness,
and in the name of your Son, our Lord Jesus Christ, in the unity of the Holy Spirit,
with whom you live and reign, one God, for ever and ever. Amen.
Click here for the full document on religious liberty and the threats against it in our country.