Tag Archive
Apostleship of Prayer
Benedictine
Benedictines
Benedictines of Mary Queen of Apostles
Blessed Virgin Mary
Canada
Carmelites
conference
Conventual Franciscans
Discalced Carmelites
discernment
Dominicans
Dominican Sisters of Mary Mother of the Eucharist
Easter
EWTN
family
Fr. Hardon
Franciscans
LCWR
Lent
Little Sisters of the Poor
Mercedarians
new evangelization
Norbertines
Passionists
Poor Clares
Pope's Intentions
Pope Benedict XVI
Pope Francis
Pope John Paul II
prayer
priesthood
saints
School Sisters of Christ the King
seminary
Servants of Mary Ministers to the Sick
St. Francis de Sales
statistics
Vatican
video
Visitation
vocation
vocation director
Vocations
World Youth Day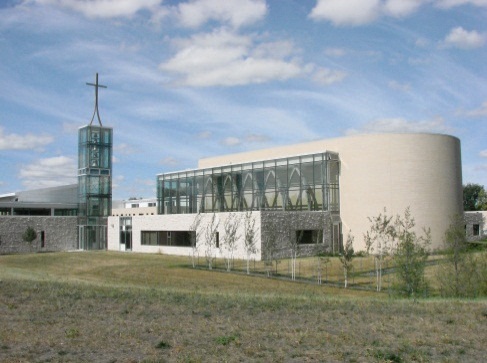 Seminary enrollment is up 50% at St. Joseph  Seminary in Edmonton, Alberta. Seminary rector Fr. Shayne Craig attributes the sharp increase to a greater emphasis on faith formation and vocations throughout the region.
With 42 seminarians registered in-house this fall and another five on internships, registration is at an all-time high, says Fr. Craig.
Last year, the seminary had 28 in-house seminarians and another six on internships. The maximum residency at the new seminary is 60 seminarians.
Eleven of this year's seminarians are from the Edmonton Archdiocese; the others come from elsewhere across Western Canada.
For the rest of the story, check out this article from the B.C. Catholic.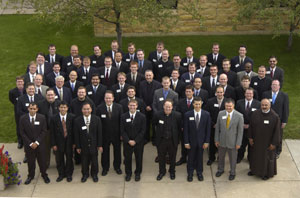 A recent Catholic News Service story reports on the continued increase in seminary enrollment in the United States. Some examples:
— At the Pontifical College Josephinum in Columbus, Ohio, 40 new seminarians arrived this year, bringing total enrollment to 186, the highest level since the 1970s.
— St. Paul Seminary School of Divinity at the University of St. Thomas in St. Paul, Minnesota, welcomed 30 new graduate-level seminarians, making its class of 100 seminarians the largest since 1980. The influx forced 24 seminarians and two priests off campus into leased space at a former convent.
— In the Diocese of Scranton, Pennsylvania, where the St. Pius X diocesan seminary closed in 2004 because of declining enrollment, the number of seminarians has more than doubled–from eight to 17 in the past two years.
But the numbers alone don't tell the full story.
"I'm tremendously impressed with the quality of the candidates, their zeal," said Father Phillip Brown, who was appointed rector of Theological College in Washington last March. "We're seeing a real renewal of the priesthood."
Under Blessed John Paul II and Pope Benedict XVI, the Church worldwide has been blessed with a priestly vocation boom. The number of major seminarians surged from 63,882 in 1978 to 117,978 in 2009, an increase of nearly 85%, outstripping world population growth (58%) and Catholic population growth (56%) during the same time period.
The State Journal-Register reports that the Diocese of Springfield, Illinois now has 20 seminarians, the most it's had in over 25 years. The article includes some sobering facts to counter this news, including the approximately 50% attrition rate of seminarians and how even that number doesn't quite keep pace with the needs of a diocese that has 131 parishes as well as various college, prison, and hospital chaplaincies.
Still, the news is encouraging and is further evidence of a stabilizing of priestly vocations in the U.S. after the decline of the 1970s and 1980s. Further, the Diocese of Springfield is bouncing back from the 1990s, when it underwent some significant scandals even before clerical sex abuse became a national story.
Yet the new generation is undaunted. As one of the current seminarians noted: "[By wearing the collar], people may immediately make assumptions about you that might be very bad. I know this is not about me. I know I'm not going to fix any huge problems on my own. But I can be, for the people God sends me to, an expression of the love God has for them."
Amen to that.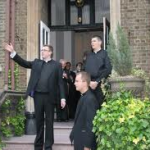 Allen Hall, the Diocese of Westminster's Seminary in London, has seen a modest increase in the number of men preparing for the priesthood in each of the past six years, according to Independent Catholic News.
In an interview published by Independent Catholic News, seminarian Damian Ryan gives all sorts of good advice to those considering the priesthood. I particularly like the way he summed it up:
"The main thing is to be courageous, relax, and  let Jesus do the work. He knows what He's doing."
"Through Christ we know that we are not destined to wander into an abyss, or the silence of nothingness or death, but that we are pilgrims on a journey to the promised land."
With these words, Pope Benedict XVI greeted the seminarians gathered in the Cathedral of Santa María la Real de la Almudena to participate in the Eucharistic celebration. In the joyful climate of World Youth Day last month, the Holy Father invited all of the men to live these years of preparation in interior silence, constant prayer, and assiduous study in order to understand if the path they are on–a path that "requires audacity and authenticity"–is the right choice for their lives.
The former convent at Our Lady of Good Counsel Church in Little Rock, Arkansas will once again be a place to support religious vocations.
Last month, Bishop Anthony B. Taylor announced that the Diocese of Little Rock will be establishing a new House of Formation for current and potential seminarians at the Sisters of Mercy convent, which was used for religious education classes and parish offices until 2009. Msgr. Scott Friend, vocations director, said the house, slated to open next year, will have bedrooms for ten seminarians or discerners, two priest apartments, kitchen, meeting room/library, dining room, common area and chapel.
He also said that the House of Formation will have a constant presence in the lives of Catholics in the area, especially at Good Counsel. Instead of being photographs on a vocations poster, the men will be present at parish and diocesan events. He said this will help continue to foster a "culture of vocations" in Little Rock.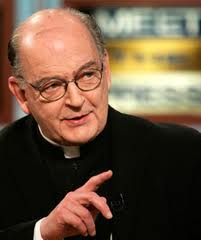 Fr. Raymond de Souza offered a fitting tribute to the late Fr. Richard Neuhaus at the First Things blog in honor of the 20th anniversary of Fr. Neuhaus' ordination as a Catholic priest. His ordination took place at St. Joseph Seminary in Dunwoodie in 1991, a year after his reception into full communion with the Catholic Church.
Fr. de Souza noted that Archbishop Timothy Dolan of New York was present at Dunwoodie on the eve of the anniversary to kick off the new academic year, and he drew lessons from Fr. Neuhaus' remarkable life.
"Few of you will have a life as public at Father Neuhaus had," Archbishop Dolan said. "But we can all learn from him. The key to his life as a Christian disciple was that he always did his prayers in the morning before reading The New York Times. Prayer before penance, he would say!"
Fr. Neuhaus understood that holiness is an urgent matter for all. Therefore, he stressed that seminary and the priesthood ought to be a pilgrimage toward holiness. The long road of fidelity—of holiness—begins now. Father Neuhaus was fond of saying that the solution to our crises in the Church is fidelity, fidelity, fidelity!
Our first response to the spiritual and moral crises of our time must be our daily pursuit of holiness.

Fr. Z took time out from his Fourth of July holiday to grace his readers with the following top ten list of qualities of prospective priests today:
1. Prospective priests (Religious or Diocesan) are not looking primarily for community life, as we live it. They are looking for a Church-related mission that they believe in.
2. Prospective priests want to know what the Pope teaches, not what the U.N. teaches.
3. Prospective priests do not want to sit around with older "veterans" and listen to the latter whine about the Pope, Rome and the bishops.
4. Prospective priests are not in favor of women's ordination. Period.
5. Prospective priests do not want to attend Masses that resemble hootenannies, Quaker meetings, or Presbyterian services.
6. Prospective priests are not ashamed of the Pro-life movement, they're for it.
7. Prospective priests do not want to hear their brothers mock the Pope and gripe about liturgical norms.
8. Prospective priests do not want to study at theological unions/seminaries that are embarrassed by Catholic teaching.
9. Prospective priests know that Vatican II was not the only, or even the most important, Ecumenical Council.
10. Prospective priests are not embarrassed by Marian devotion, and are seen praying the Rosary.
I think this list is pretty accurate. I would say with respect to point one that prospective priests today tend to be inspired by the call for a "new evangelization." Some feel a greater need for community life than others. Others who may not have thought much about it before seminary come to recognize the value of some form of community life, even as a diocesan priest.
What do you think of Fr. Z's list?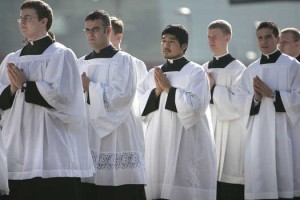 I spent a couple wonderful years with a religious community in the 1980s as I was discerning a possible vocation to the priesthood and religious life. One day, they brought in a well-known retreat master to give the two dozen or so seminarians a day of recollection.
The first words of the priest to begin the day of recollection really startled me. He bluntly said, "None of you are called to the priesthood." I looked around the room at all the postulants and said to myself, "Boy, Father Tom (the community's vocation director) sures knows how to pick 'em!"
The priest then explained that our vocation is "now," that we must respond wholeheartedly to the Lord right here, right now by being holy seminarians. In five or six years, God willing, the bishop will lay hands on some of us, and then–and only then–would we truly be called to the priesthood.
As it turned out, I wasn't one of the men called to become a priest. Yet, this important lesson has always stayed with me as a lay Catholic.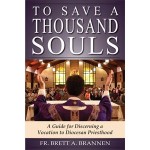 In To Save a Thousand Souls: Discerning a Vocation to Diocesan Priesthood (Vianney Vocations, 2010), Fr. Brett Bannon devotes an entire chapter to the characteristics of a good candidate for priesthood. He identifies 20 "signs" of a possible vocation to diocesan priesthood, since that is the focus of the book. However, I think these particular signs could also point to a vocation to the priesthood as a member of a religious community.
Fr. Brannen, an experienced vocation director and vice-rector of Mount St. Mary's Seminary, gives two important caveats before diving into his list of signs.
First, the Lord can call anyone to serve as a priest. A potential candidate may not initially have all the qualities listed here, and that's okay.
Second, the discernment of a priestly vocation should be a deliberate process involving one's spiritual director, vocation director, and other sound spiritual guides. 
According to Fr. Brannen, a good candidate for priesthood should . . .
(1) Know and love Jesus Christ and experience a thirst to bring Jesus and His teachings to the world.
(2) Be a believing, practicing Catholic.
(3) Be striving to live a life of prayer.
(4) Live and desire a life of service to others.
(5) Have a desire to be a priest.
(6) In many cases, have his call validated by other people.
(7) Find his calling validated in Sacred Scripture.
(8) Be striving to live a virtuous life.
(9) Have good people skills.
(10) Have above-average intelligence (but those who struggle academically should not lose heart!).
(11) Be physically, emotionally, and psychologically stable.
(12) Be joyful and have a good sense of humor.
(13) Have a "priest's heart."
(14) Have self-possession and self-mastery.
(15) Show stability in lifestyle.
(16) Be a Christian gentleman.
(17) Have life experiences that point toward priesthood.
(18) Be able to accept both success and failure peacefully.
(19) Have a healthy psycho-sexual development and orientation. 
(20) Be truly open to the will of God for his life.
For an explanation of each of these possible signs, see pages 77-108 of Fr. Brannen's excellent vocation resource.