Tag Archive
Apostleship of Prayer
Benedictine
Benedictines
Benedictines of Mary Queen of Apostles
Blessed Virgin Mary
Canada
Carmelites
conference
Conventual Franciscans
Discalced Carmelites
discernment
Dominicans
Dominican Sisters of Mary Mother of the Eucharist
Easter
EWTN
family
Fr. Hardon
Franciscans
LCWR
Lent
Little Sisters of the Poor
Mercedarians
new evangelization
Norbertines
Passionists
Poor Clares
Pope's Intentions
Pope Benedict XVI
Pope Francis
Pope John Paul II
prayer
priesthood
saints
School Sisters of Christ the King
seminary
Servants of Mary Ministers to the Sick
St. Francis de Sales
statistics
Vatican
video
Visitation
vocation
vocation director
Vocations
World Youth Day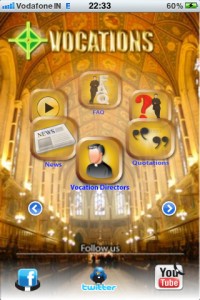 Answering the "call" is getting a little easier these days, and in a surprising place. Those who want more information on joining the Catholic priesthood in Ireland need look no further than their smart phone.
The Irish Bishops' Conference is eagerly promoting its new "Vocations App."
The app was launched Monday by Down and Connor Auxiliary Bishop Donal McKeown, chair of the episcopal conference's Vocations Commission. The first in the world, this new app is available for download free of charge from the Apple app store.
The purpose of the app is to "assist current and future generations seeking to investigate and find information on vocations to the diocesan priesthood in Ireland," announced the bishops' conference in a press release.
The app was developed by a Dublin company, Magic Time Apps, and designed by Father Paddy Rushe of the Archdiocese of Armagh.
The launch of the app also heralded the official handoff of the position of National Coordinator for Diocesan Vocations from Father Rushe to Father Willie Purcell of the Diocese of Ossory.
Some of the highlights of the Vocations App include:
— contact details and statistics on the 26 dioceses of Ireland
— frequently asked questions to assist a person to discern his vocation, including questions such as "What does a priest do all day?" and "How long do you have to study?
— news feed running from the national vocations website
— "tests" to enable the user to reflect on vocation potential
Anticipated updates for the Vocations App include a "prayer counter" for those who want to pledge prayers for vocations, and an image gallery giving a window into the life of a seminarian.
Courtesy of Zenit.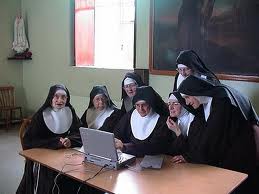 Yesterday the National Catholic Register published an interesting article entitled "Sisters Go Online to Promote Vocations," on how communities of women religious are relying more on the Internet and social media, with some orders report a sharp rise in inquiries.
"For many women discerning religious vocations and communities seeking new members today, the Internet serves as both matchmaker and meeting place. Whereas in the past, most young women learned about religious communities from sisters in schools and other Catholic institutions, the decline in numbers of religious women has caused communities to find different ways of reaching those whom God may be calling to vowed life.
"Chief among these new practices has been use of the Internet, where communities can easily connect with possible candidates. Many, if not most, communities today have some kind of Internet presence–at minimum, a website explaining their history and charisms. Others, like the Mercy sisters, have gone even further by adding chat rooms, blogs, and Facebook, Twitter, and YouTube accounts."
While social networking alone isn't enough to foster a "culture of vocations," it's increasingly becoming a significant part of the equation, according to a 2009 study conducted by the Center for Applied Research in the Apostolate (CARA).