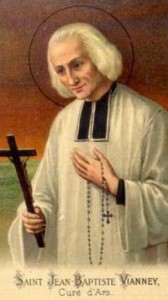 After failing to pass examinations to enter the seminary, confronting conscription into military service and being besieged by attacks from the Devil, one man exhibited great perseverance in pursuit of his vocation to the priesthood. This humble man, St. John Vianney, through prayer and dedication to the will of God, is now celebrated as a great saint and model for all priests.
St. John Vianney faced many obstacles throughout his life including school where his difficulties in the classroom became apparent when he failed to pass the seminary entrance examination. After a second successful attempt, he encountered another impediment when he was drafted into Napoleon's army. Throughout his life he also faced adversity when experiencing attacks from the Devil. He persevered through his tribulations and was ordained a priest in 1815.
St. John Vianney is known as the patron of priests due to the exceptional pastoral care he exhibited following his ordination. He was appointed parish priest in Ars where he quickly became known for his holiness. He worked to improve catechesis, spent between 16 to 18 hours a day in the confessional and cultivated a rich interior life of prayer and mortification which aided him in his ministry.
Rather than allow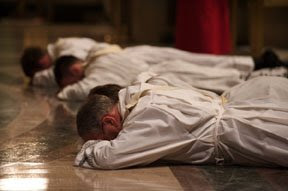 ing any obstacles to consume him, the humble saint utilized these times as opportunities to grow in holiness. Let us continue to pray for all priests throughout the world as they respond to the Lord's call. Fr. Gerald Fitzgerald, sP said, "The Priesthood is God's greatest gift to man; its faithful fulfillment is man's greatest gift to God." Realizing the need priests have for prayers, Father Fitzgerald founded the Handmaids of the Precious Blood, a cloistered community that prays particularly for priests. Consider adopting a priest to pray for, and pray for all priests that, inspired by the witness of St. John Vianney and strengthened by the grace of God, they may faithfully live out their vocation to the "ministerial priesthood which is the means by which Christ unceasingly builds up and leads His Church."