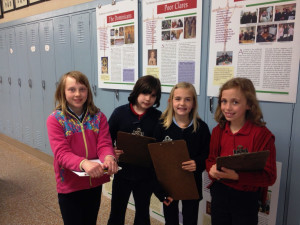 In the midst of our National Meeting preparations last spring, a kind couple from Michigan came to the office to pick up our Heralds of Holiness exhibit, an 80-panel display showing the ancient roots of the consecrated life, as well as how it is still expressed in our many Affiliate communities today. They brought it to the Carmelite Monastery of the Infant of Prague in Traverse City, Michigan, where it was on display for an open house as part of the celebration for the Year of Consecrated Life.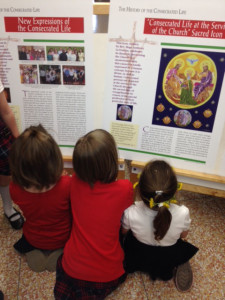 More than 300 people visited the monastery to tour the nuns' renovated chapel and to view the exhibit. About 30 young people squeezed into the monastery "speakroom" for a Question and Answer session with the nuns about their cloistered life.
Heralds of Holiness then went on the march, thanks to the efforts of the Carmelites who promoted it around the diocese. It began with a tour of Catholic schools in the diocese of Gaylord, and was viewed by 600 students at St. Francis High School, Traverse City; 55 students at St. Mary's K-8 school in Kingsley; and by over 230 students and parents at St. Francis Xavier School and St. Michael the Archangel Regional Catholic Academy in Petoskey before the school year ended.
After this, the display traveled to St. Mary of Mt. Carmel Cathedral in Gaylord for viewing by the faithful gathered for the ordination of three transitional deacons and one priest on June 25th. In July, the exhibit went to the National Shrine of the Cross in the Woods.

I have to admit that I was not familiar with this incredible place of pilgrimage until Heralds of Holiness arrived there. The crucifix on the cross on the hill, at a weight of 7 tons and 28 feet in length, is the largest in the world! The sculptor gave the face of Jesus an expression of great peace and strength to offer everyone who comes to pray there encouragement in the face of their own struggles, a perfect place of pilgrimage for the upcoming Year of Mercy.
If you would like to visit the Carmelite monastery in Traverse City, the chapel is open for prayer and daily mass. Join them for the Triduum of Masses in honor of St. Therese, September 29, 30 and October 1. We pray that Heralds of Holiness awakens in young people a desire to learn more about religious life and result in holy and persevering vocations for the Carmelites as well!