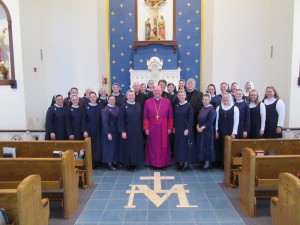 In November of 2015, the Sisters of the Immaculate Heart of Mary moved into their new home, a 32-bedroom Novitiate House of Formation in Colwich, Kansas, on the site of the former Simon horse ranch. The convent, chapel and altar were blessed by Bishop Carl Kemme on December 8, 2015.
The sisters bought the property in 2012 so that they could house all of their sisters under one roof. Previously, the sisters had been living in smaller convents throughout Wichita and did not have a place to gather as a community.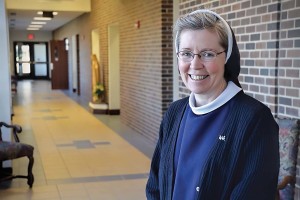 "We had no chapel large enough for us to be able to pray in together," said Mother Mary Magdalen O'Halloran. "We had no dining room large enough for us to take our meals together; we had no room where we could meet for community meetings, days of recollection, conferences, or recreation. In addition, we were quickly running out of bedrooms."
The new novitiate has a chapel, community dining room and assembly hall. In the future, the Motherhouse will be built as the next phase of the building plan. They have the fortunate situation of needing most of the bedrooms in the Novitiate already  for they have had five young women enter their community since the building began and another entering this month as a postulant.
The sister's primary apostolate is to educate the young in the Catholic faith. Thus, they will retain two of their current convents at St. Joseph Parish and Holy Cross Parish for use during the school year.  They also  are active in the St. Paul Student Center at Wichita State University. The sisters "first" apostolate though is to contemplate the Word and to pray and work for the conversion of sinners and the sanctification of priests.
Their founder, Fr. Joaquin Masmitjá (1808-1886), said, "Thus the Sisters would instruct others, especially young women, in the Catholic faith so that they in turn might become the instruments for instructing and strengthening others, and in this fashion rebuild the foundations of morality in a society weakened by its divorce from religion."  As it says on their website and how true it is: "An honest look at our world today will testify to the need for our charism among the young." Visit their website to see how their charism is beautifully summarized in their insignia (above).
"We'd been planning and waiting for this day for 39 years, since we arrived in the Wichita diocese," said Mother Mary Magdalen. "It was a monumental day for us."
For the complete story, please visit the Catholic Diocese of Wichita's website.