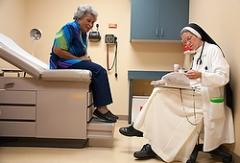 While I ordinarily would discourage people from reading the National Catholic Reporter, which has been a notorious instrument of dissent for decades, I just came across this Catholic News Service story at their website and encourage our readers to check it out.
The story is about Dominican Sister Mary Diana Dreger, a primary care physician at St. Thomas Family Health Center South in Nashville. Sister Mary Diana continues the legacy of Catholic health care that has been firmly rooted in Middle Tennessee since the Daughters of Charity founded St. Thomas Hospital in 1898.
In addition to working at the St. Thomas clinic since 2007, Sister runs a Saturday clinic at the Dominican motherhouse, and naturally serves as the primary-care physician for about 75 Dominican Sisters of St. Cecilia.
Sister Mary Diana strives to put her patients at ease, providing a solidly Catholic witness while dispensing sound health care, not lectures on morality. Even though she is the only sister in Nashville who is also a medical doctor, "I've been pleasantly surprised with how welcome I've been wearing a habit," she said.
Contrary to what some may believe, she has found that wearing a habit inspires more trust than skepticism among patients. "Patients are comfortable talking about just about anything with me," she said.