Today is the Feast of the Miraculous Medal and tomorrow we celebrate the Feast Day of St. Catherine Laboure who propagated the devotion. It testifies to the power of the Miraculous Medal that an "inanimate" object gets its own feast day!
One of the most famous converts due to Our Lady's intercession via the Miraculous Medal is Alphonse Ratisbonne (1814-1884). While I was living in Jerusalem at Ecce Homo Convent (run by the Sisters of Sion) on a sabbatical from my computer job, I visited the Sisters of Sion's convent in Ein Karim. While wandering through their incredible garden of Eden of fruits and foliage, I stumbled across Alponses' grave in a remote corner of the garden. How did his remains get there? I was so driven to find out that I ended up writing a book called "A Spiritual Pilgrimage to France."
Anyway, Alphonse, a Jewish non-believer, was dared by a friend while visiting Rome to wear a Miraculous Medal and to pray the Memorarae twice a day. He did so and while in the Basilica of Sant'Andrea delle Fratte had a vision of the Blessed Mother and was instantly converted. His brother Theodore, a Catholic convert and priest, had the joy of announcing in the Basilica of Notre Dame des Victoires in Paris that his brother had become "a fully believing Catholic." This is the same Church that filled St. Therese of Lisieux with delight as she made her journey to Rome before her entrance into Carmel. Sant'Andrea delle Fratte is also the Church where St. Maximilian Kolbe celebrated his first Mass, at the very altar where Alphonse experienced his vision. We at the IRL are privileged to be housed at Marytown, the National Shrine of St. Maximilian, a great proponent of the Miraculous Medal. Life is full of twists and turns and coincidences.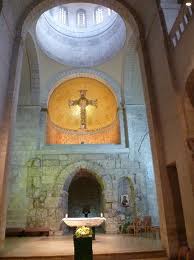 To wind things back up, Alphonse after his conversion became a Catholic priest and with his brother Theodore co-founded the Congregation of Our Lady of Sion and came to the Holy Land to bring the Good News to the Jewish people. He built Ecce Homo convent on the Via Dolorosa, run by the Sisters of Sion, which today is a pilgrim house and hosts a biblical studies program. I was there as a volunteer for three months, an experience I highly recommend.
Alphonse died in Ein Karim and was buried inside the walls of the Sisters of Sion's convent. His room at Ecce Homo is left as it was when he was alive. Maybe if you ask the sisters, you can have a private viewing.
God bless all who wear the Miraculous Medal with faith. May the Blessed Mother be their protectress and intercessor for all their needs, all through their lives.