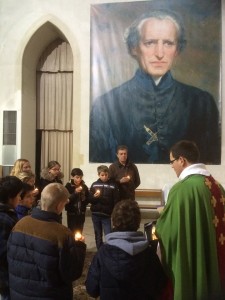 Fr. Basil Moreau, the Founder of the Congregation of Holy Cross, decreed in 1849 that all of the Holy Cross houses should institute perpetual adoration of the Blessed Sacrament "to obtain necessary vocations and to draw down more abundant blessings from heaven on the work of Holy Cross."
This is a model for all people—religious, consecrated and lay. If we want vocations, Adoration, especially Perpetual Adoration, is always a means to draw forth blessings from Heaven, whether it be for vocations in the family, in the parish, or in religious communities. All can participate in fostering vocations.
In December of 2013, the Congregation of Holy Cross announced that they are establishing an international shrine in honor of Blessed Basil Moreau at the Church of Notre-Dame de Sainte-Croix in Le Mans, France. The church, consecrated in 1857, is the Congregation's spiritual home, and the church's crypt is where Father Moreau is buried today.
It's new rector, Fr. John DeRiso, C.S.C., said, "I believe the first step in the establishment of the shrine should be that of prayer. We have begun at Notre-Dame de Sainte-Croix a weekly Holy Hour of Eucharistic Adoration for the needs of the parish and the shrine together." Fr DeRiso previously served in a parish in South Bend, Indiana.
I attended St. Mary's College in Notre Dame, IN, run by the Holy Cross sisters, where I lived in LeMans Hall. Now I know where and why it got its name!
A Holy Cross brother sent us some quotes from Father Moreau of which I provide these two excerpts:
"Among the practices of piety in use in our congregation, there is one which I cannot recommend strongly enough, my dear sons and daughters in Jesus Christ, because its faithful practice is the richest source of divine blessings for us and for our houses. I refer to the perpetual adoration of the Blessed Sacrament."
"Reverend Fathers and dear Brothers, I feel myself urged to commend earnestly to your attention, fidelity to your Hour of Adoration, so that day and night there may be someone among us before our Lord to adore Him, thank Him, beg for graces, and pardon in the name of the entire family of the Holy Cross."