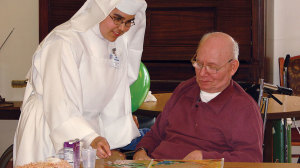 We can only hope that when and if our time comes for nursing care in our golden years, that the Carmelite Sisters of the Most Sacred Heart of Los Angeles in California will have expanded far enough east to accommodate all of those who seek a good Catholic home in their twilight years.
As described in Our Sunday Visitor (June 14, 2015), the sisters have opened a Neighborhood of Care at Santa Teresita, a Catholic assisted-living facility in Duarte, California. Nestled at the foot of the San Gabriel Mountains on 12 acres, the residence is the first of twelve cottages planned for the site. Once all of the nine planned cottages are built, they will truly form a neighborhood of love.
The first cottage is home to twenty senior residents who have individual rooms but share and plan the meals in common. Sixteen sisters are part of the staff. In the home-like setting, the sisters keep the residents active with activities such as gardening, fitness and computer classes, and outside speakers.
Mother Luisita founded the Carmelites in 1921 in revolutionary Mexico. However, they were forced to flee the country and in 1930, established Santa Teresita in Duarte as a home for women with suffering from tuberculosis. Today, there are 134 Carmelite sisters, eight of whom are novices.
The residents partake in the prayer life of the sisters and have opportunities for daily mass, the rosary, and confession. When a person is near death, the sisters are at the bedside along with family members. One man said, "I love it, We have our own chapel and chaplain, and when I have trouble walking over, they bring Communion to me."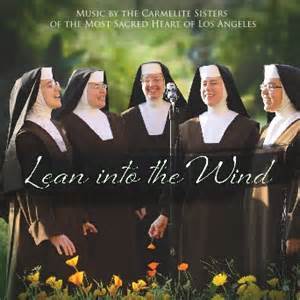 The sisters were also featured in a Wall Street Journal article (May 27, 2015) which talked about their new album of song called "Lean Into the Wind." Proceeds from the sales will help the building-expansion program under way at Santa Teresita. The writer of the article said, "To say "Lean Into the Wind" has moments of beauty is to understate its power. Some of the performances are manifestations of love in its purest form and glimpses into the tranquility found in a life dedicated to the service of others and of God."