I always life to keep abreast of new beginnings in religious life so I thought I would let people know of a new Carmelite Monastic foundation that is being formed in southern Saskatchewan. Called the Monastery of the Transfiguration, Sr. Juana Benedicta of the Cross has received approval from the archdiocese to begin this work of evangelization though the apostolate of prayer.
These Carmelite Monastic Sisters are a family of solitaries living the eremitical life in a monastery, in the Teresian Carmelite tradition.  "For the style of life we aim to follow is not just that of nuns," said St. Teresa of Avila, "but of hermits." The contemplative sister assists the Church by giving witness that God is the only Absolute, enlarging "the Church by her hidden apostolic fruitfulness."
The monastery is located on 60 acres of land on the Saskatchewan prairies. It includes a large chapel, dedicated to Mary, Mother of Divine Grace, that was recently renovated. The Rule is the Primitive Rule of St. Albert, written for Carmelites sometime between 1206 and 1214.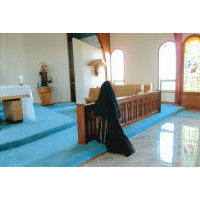 As Carmelite solitaries, the ideal of Elijah contemplating God on Mount Carmel becomes the ideal for a life dedicated to a personal encounter with the Eternal Father and the desire for transformation through the Holy Spirit by imitation of His Son Jesus.
A young woman interested in this way of life of silence, solitude, strong community and the spirit and joy of the Gospels, (between the ages of 18 and 35, in good health, a minimum of high school education and some work experience), can receive more information by contacting:
Carmelite Monastic Sisters Inc.
Monastery of the Transfiguration
Box 1896
Moose Jaw, SK S6H 7N6
Canada
Email: carmst@sasktel.net