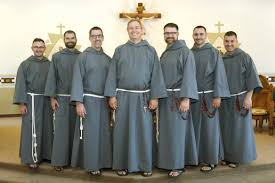 On July 2, 2016, the Franciscan Friars of the Holy Spirit, seven friars in all,  were established as a Public Association of the Faithful in the Diocese of Phoenix in a ceremony at St. Francis Mission on the Ak-Chin Indiana Reservation. Their primary mission is to serve the Native Americans in the diocese from their base at the Gila River Indian Community at St John the Baptist Mission. But they also provide campus ministry support at Grand Canyon University and other schools in the diocese as well as evangelization initiatives through prayers groups, missions and conferences.
"This truly is a momentous occasion. Just over a year ago a group of men felt called by God to form a new Franciscan charismatic community in the Diocese of Phoenix," said Fr. David Sanfilippo, vicar for priests. "After prayerful discernment, the Church officially recognizes and affirms their decision as an authentic call from God."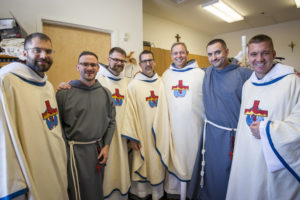 The friars were given an abandoned convent on the Gila River reservation where in the old mission a remnant of the faithful were praying that the Franciscan fathers would one day return. "Once we began offering the Holy Mass in the Mission Church that autumn," they said, "the people came in crowds, smiling and applauding because, 'the padres have returned!' We were similarly greeted at the other nine mission churches that are entrusted by Bishop Olmsted to our care."
The friars felt called by the Spirit to leave their prior community to begin a Franciscan missionary initiative in the desert. The priests and brothers follow the Rule and tradition of the Third Order Regular of Saint Francis of Penance. Not surprisingly, they are growing and attracting new members.
"My dear Friar Brothers — and my sons who have become very dear to my heart in the last 14 months — your religious vows today and your fidelity to them each day hereafter draws you into something revolutionary, something that Jesus uses to transform your lives and society."   
—Bishop Thomas Olmsted
To contact them:
Saint Kateri Tekakwitha Friary
5447 West Pecos Road
Laveen AZ, 85339