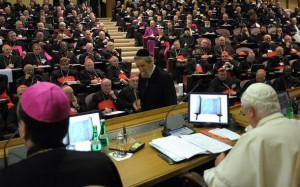 The Pontifical Councils for Culture and Social Communications are organizing a gather of Catholic bloggers in Rome on Monday, May 2, 2011, the day after Pope John Paul II's beatification.
 The aim of the meeting is to allow for a dialogue between bloggers and Church representatives, to listen to the experiences of those who are actively involved in this arena, and to achieve a greater understanding of the needs of the blogging community. The meeting will also allow for a presentation of some Church initiatives to engage the new media technologies, both in Rome and at the local level.
The first panel of presenters will consist of five bloggers, representing five different language groups.  Simultaneous translation will be provided in Italian, English, French, Polish and Spanish.
The second panel will draw on people involved in the Church's communications outreach, such as Fr. Lombardi from the Vatican press office, who will speak of their experiences in working with new media and initiatives aimed at ensuring an effective engagement by the Church with bloggers.
The meeting is taking place on the day after the beatification of Pope John Paul II in order to take advantage of the presence in Rome of many bloggers. Those who wish to attend need to apply by email and send a link to their blog. As space is limited to 150 seats, those who are interested should apply now. 
This upcoming conference serves to reinforce the importance of this year's National Meeting of the Institute on Religious Life, which is devoted to the subject of utilizing the new media–including blogging!–for the new evangelization. The National Meeting will be held on April 29-May 1, 2011 at the University of St. Mary of the Lake in Mundelein, Illinois. For more information and/or to register for the event, click here.
Courtesy of Vatican Radio.