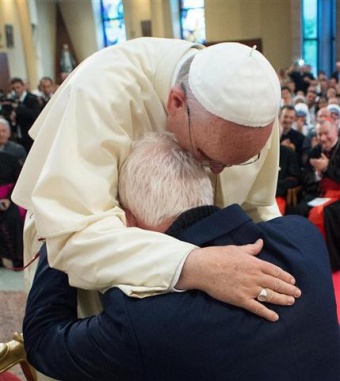 In late September, Pope Francis made a one-day visit to Albania, a country that in 1967 boldly proclaimed itself to be the world's first atheistic state.
One of the most moving moments for Pope Francis, one that moved him to tears, were the testimonies of a priest and a sister who were able to persevere in the Faith when the practice of any kind of religion often resulted in torture and death.
Fr. Ernest Troshani told the Holy Father how he had studied with the Franciscans for ten years, continuing even after his superiors had been shot and killed. In 1965, he was ordained and celebrated his first Mass on Divine Mercy Sunday. He was arrested, tortured and told he would be hanged. When a spy was placed in his room to get him to peak against the Party, Fr. Troshani responded that Christ had taught us "to love our enemies and to forgive them and that we should strive to seek the good of the people." When these words of his reached the ears of the dictator, he was freed.
He was given 28 years of forced labor where he was able to use his priestly faculties. "The Lord has helped me to serve so many peoples and to reconcile many, driving out hatred and the devil from the hearts of men."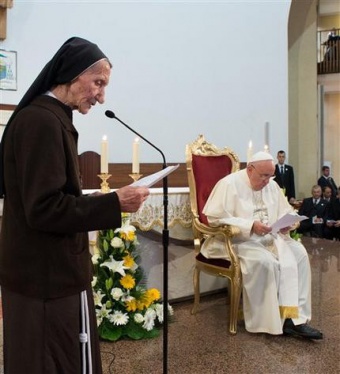 Sr. Maria Kaleta, now 85 years old, was in the Franciscan Stigmatine convent for seven years before she was forced to return home by the Communists. During this dark time, she was given permission to keep the Blessed Sacrament at home so she could bring it to the sick and dying. Her uncle, a priest and martyr, is now being considered for sainthood.
"When I think of it," she said, "I wonder how we were able to endure such terrible sufferings, but I know the Lord gave us strength, patience and hope."
Pope Francis said that he was shocked, when preparing for this visit, to learn how much the people of Albania had suffered.
"And we may ask them: 'But how were you able to survive so much tribulation?' And they will say this passage that we have heard in the Second Letter to the Corinthians: God is the Father of compassion and the God of all comfort. It was He who consoled us!, with this simplicity."
"Woe to us if we look for consolation elsewhere! Woe to the priests, the religious, the nuns, the novices, the consecrated when they look for consolation far from the Lord! I do not want to 'hit you over the head' (it.bastonarvi), eh? I do not want to become the executioner here, but know this well, eh? If you look for consolation somewhere else, you will not be happy!"