Tag Archive
Apostleship of Prayer
Benedictine
Benedictines
Benedictines of Mary Queen of Apostles
Blessed Virgin Mary
Canada
Carmelites
conference
Conventual Franciscans
Discalced Carmelites
discernment
Dominicans
Dominican Sisters of Mary Mother of the Eucharist
Easter
EWTN
family
Fr. Hardon
Franciscans
LCWR
Lent
Little Sisters of the Poor
Mercedarians
new evangelization
Norbertines
Passionists
Poor Clares
Pope's Intentions
Pope Benedict XVI
Pope Francis
Pope John Paul II
prayer
priesthood
saints
School Sisters of Christ the King
seminary
Servants of Mary Ministers to the Sick
St. Francis de Sales
statistics
Vatican
video
Visitation
vocation
vocation director
Vocations
World Youth Day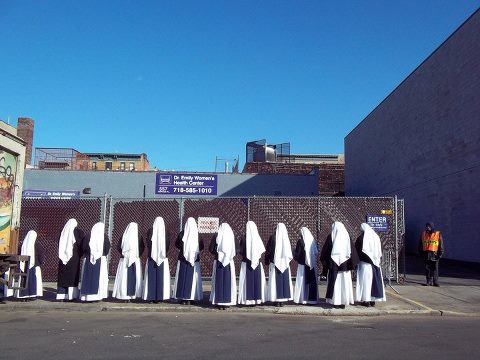 According to the Catholic News Agency, the Augustinians of Conversion,  a Catholic order of nuns in Spain, is abounding in vocations. Located on the Way of St. James, they were founded in 1999 by Mother Prado who left her Augustinian convent to lead a more contemplative life. They welcome pilgrims on the way to Santiago de Compostela with a bed, dinner, mass and a special blessing. These one-on-one encounters have borne fruit. The order started with 4 sisters and it is now up to 26 with 8 more in discernment.
The best vocation program is a face to face encounter with real live people. The Sisters of Life often walk the streets in their habits and talk to the people who approach them. (See them praying (right) at an abortion clinic.)  Four religious in habits got a rousing round of applause as they came up to a Chick-Fi-A in Illinois. Every priest can tell the story of being stopped by someone in an airport terminal for confession.
It just points out the power of a visible sign of witness. Of pointing to Whom you belong. It's an irresistible draw.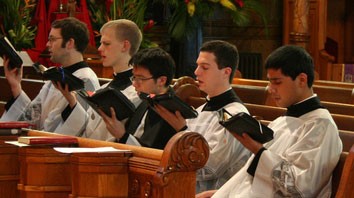 Today the Church celebrates the feast of St. John of Kanty, a 15th-century professor and priest in Krakow. He was known not only as an orthodox teacher of the faith, but also for his piety and kindness.
He is also known as St. John Cantius, perhaps even more so now with the establishment in 1998 of the Canons Regular of St. John Cantius, a thriving religious community of men under his patronage.
The members of the Canons Regular of St. John Cantius seek personal sanctity by imitating Christ in radical opposition to the values of this world. They wish to "Restore the Sacred" in the Church, in the world, and in their own lives in pursuit not only of their own sanctification, but also the salvation and sanctification of all.
The Canons Regular of St. John Cantius' mission, in the context of parish ministry, is to help Catholics rediscover a profound sense of the sacred through solemn liturgies, devotions, sacred art, sacred music, as well as instruction in Church heritage, catechetics, and Catholic culture. Read the rest of this entry »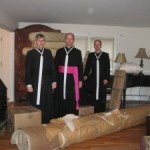 Check out this exclusive interview with Fr. Elias Carr, Fr. Daniel Nash, and Fr. Bruno Semple of the Canons Regular of St. Augustine, courtesy of Catholic Lane.
These priests have just established a new American foundation: the Canonry of St. Leopold, in Long Island, New York. Click here for the second part of the interview and for more information on supporting their mission. You may also check them out on Facebook.
The canons' blending of community life with diocesan ministry offers new possibilities for U.S.-based priests.