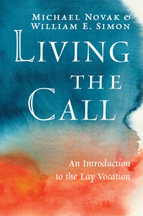 William E. Simon, Jr. has coauthored a new book with Michael Novak entitled Living the Call: An Introduction to the Lay Vocation (EncounterBooks, 2011). Simon adapted some of the material from his book in writing this opinion piece published at foxnews.com.
Simon's presentation is not that of a polished theologian explaining the lay vocation in abstract, technical terms. Nor is it the rambling of an ideologue seeking to impose upon his readers his own spin on Vatican II and the Church.
Rather, at least in the published essay, he writes as a 60-something Catholic layman who over time has come to see experientially not only what the Church can do for him, but also what he can do for the Church. I look forward to reading his book.