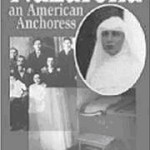 Yesterday, Pope Francis met with Camaldolese Nuns at the Monastery of Sant'Antonio Abateas (St. Anthony the Abbot) in Rome as the Church celebrated Pro Orantibus "(For Those Who Pray") Day. The Camaldolese family is one of the ancient monastic orders in the Church, founded by St. Romuald a thousand years ago. They follow the Rule of St. Benedict (but also check out St. Romuald's brief Rule) and most but not all of the communities existing today are part of the Benedictine Federation family.
The Holy Father greeted the 21 sisters and celebrated Vespers with them. The monastery was once noted for its resident American anchoress, Sister Nazarena of Jesus, who was born Julia Crotta in Glastonbury, Connecticut. Before entering religious life, she studied music at Yale and received a degree from Albertus Magnus College. She became an anchoress in 1945 and lived for 45 years in a tiny room attached to the chapel.
In sister's cell was a plank for a bed, a small bathroom, a table and a chair (see old story in newspaper done while she was alive). For food, she lived on bread and water with an occasional grape or boiled carrot as a treat. She had a small window to the outside world and another opening into the chapel when she, unseen, participated in Mass ( a priest gave her daily communion).
When the abbess was asked if Sr. Nazarena was insane, she said, "Sister Nazarena is fully sane and has all her faculties. In a wild, self-seeking world, she has found an oasis that has given her tranquility and made her happy. She is the most serene person I have ever met." Sister died in 1990 at age 82. Pope Francis went to her cell during his visit.
A book on her life by Thomas Matus is available at Amazon.com.