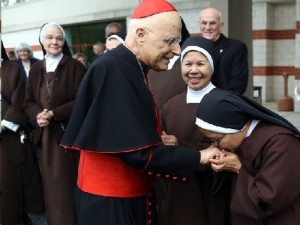 On May 14, 2014, Cardinal Francis George, O.M.I., came to St. Joseph's Carmelite Home in East Chicago, Indiana, to celebrate the 100+  years since its foundation. Receiving an enthusiastic welcome from the nine Carmelite sisters, he attended a fundraiser that raised over $200,000 for the sisters who annually provide an emergency shelter and home to 200 children and their families.
Blessed Mary Teresa of St. Joseph, foundress of the Carmelite Sisters of the Divine Heart of Jesus, personally founded this particular home in 1913.  The sisters' mission is to see God in all, serve God in all, love God in all. A Lutheran convert in Germany, Mother was described as going through the world like a "hurling locomotive." At the time of her death in 1938, Mother had begun 58 homes, formed 1000 sisters and cared for 10,000 children.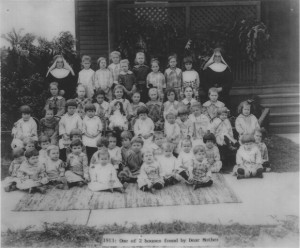 On of those children was Earl Mager, 88, who came to the East Chicago home when he was 5 years old. "My mother died in childbirth," he said. "I was placed in all kinds of homes and then sent to the orphanage when I was 5 years old. I stayed there until 1939."
Another girl named Michelle came to the sisters at age 13. The sisters sent her to school and paid for the transportation to get her to and from work. "They are my roots. They are my everything," Michelle said. "I really wonder where I would be if I didn't have them."
The sisters also care for the aged. My grandfather and uncle, both doctors, used to care for the residents in their home in Kenosha, Wisconsin.
This facility is the oldest Carmelite Home in the United States. "Our founding mother stayed close to this mission of love throughout her life," says Sister Marie Giuseppe, "even requesting soil from the home be used on her grave in the Netherlands. I think she's here right now.