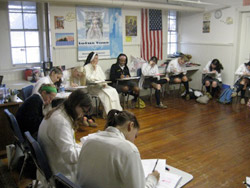 Recently at Patheos there was an article by Elizabeth Duffy on Mount de Sales Academy in Maryland, run by the Dominican Sisters of St. Cecilia, more commonly known as the Nashville Dominicans, in which the faith is beautifully integrated into every aspect of the educational experience. Duffy writes:
"The Nashville Dominican Sisters have gained a national reputation for helping to facilitate this Catholic Identity wherever the sisters go. Many parents and administrators are wondering, how can we get the Nashville Dominicans to come into our schools and transform them? The Sisters shine a light on the potentialities of Catholic education, but they also point a way for the laity. Christ is the one who transforms us. If he is integral to our lives, he will be integral to our schools. Holiness, not hot air."
Mount de Sales is living proof that rigorous academics and a vibrant Catholic identity need not be an either/or proposition for our Catholic schools.