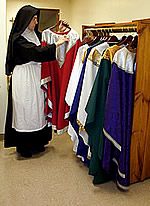 In May, we will see the ordination of many men to the priesthood. Are you looking for a special gift to give one of these newly-ordained men? Is your Pastor having a Jubilee or Anniversary of Ordination? Would you like to remember a loved one by donating a vestment in his or her memory? Something magnificent  to consider are beautiful vestments created by the Sisters of the Visitation of Holy Mary in Tyringham, Massachusetts.
The monastery belongs to the illustrious Visitation Order that was founded by St. Francis de Sales and St. Jane de Chantal in France in 1610.  They were unique for their time in not practicing severe penances. Rather they are called to "interior renunciations, great simplicity and joy in the common life." Even though they are a contemplative, cloistered Order, they welcome individual women retreatants, giving priority to those who are considering a vocation.
The sisters sing the Liturgy of the Hours five times each day and have special mission entrusted to them of prayerfully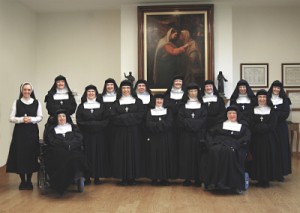 spreading devotion to the Sacred Heart of Jesus. The Visitation Monastery in Tyringham is dedicated to the Heart of Jesus and the Heart of His Mother, Mary. Thus their monastery is called Mont Deux Coeurs or the Mount of the Two Hearts.
Sr. Gemma Maria is a master seamstress who has been practicing her craft for 40 years. She is now guiding other sisters in the design and creation of sacred vestments. Each Sister within the monastery contributes some artistic handiwork for the enjoyment of others. In order to provide for their growing community and to help to support themselves, they have brought together their creative talents to launch this endeavor.
The beauty and elegance of a well-made vestment enhances the solemnity and sacredness of the Liturgy.
We are privileged to share our artistry and our labor for the Lord with you!
For more information, visit Chantal Artisans!