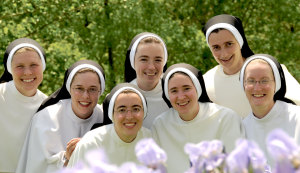 A little boy once asked a religious sister, "Are you married?" When she said no, he said, "Good, 'cause then you belong to us." Thus begins an article in the Dominican Sisters of St. Cecilia's latest newsletter. I think it sums up perfectly the Year of Consecrated. Let us celebrate consecrated men and women who, because they belong totally to God, belong totally to us.
There are so many news items  to relate relative to the Nashville Dominicans that one hardly knows where to start. Here we go:
Two sisters are now teaching at a high school in Auburndale, Tenessee.
Sister Anne Frances is full-time on the campus ministry staff at Providence College
They have a new foundation in the Sittard, Netherlands, where strangely enough the Peruvian Dominican St. Rose of Lima is patroness.
They acquired Villaggio Betania, 20 miles NW of Rome, Italy, to provide a home base for sisters studying in Rome, for facilities for the study abroad program of Aquinas College, and to support evangelization efforts. It was previously owned by the Dominican Sisters of Bethany so it stays in the Dominican family.
They are expanding Bethany Retreat House to accommodate the growing number of people seeking a place of quiet and prayer.
According to their last update to us, they are over 300 sisters, including 60 in formation!!
Mother Ann Marie, OP, says: "Each of us is called by God to 'reach out to others  and seek their good' (Pope Francis). At a time when  our world is experiencing so much anguish in its search for the peace that only God can give, let us ask Him to make us instruments of hope. Wherever He places us each day, let us allow Him to be at work in us to bring the peace of Christ and the joy of the Gospel."