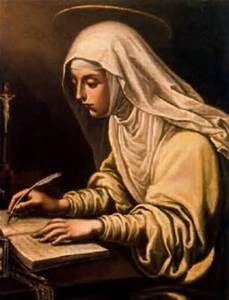 The Dominicans Nuns of Marbury, Alabama, have recently posted on their website The Canticle of the Passion, or the "Passion Verses." It is a specifically Dominican devotion traditionally sung on the Fridays of Lent.  A compilation of texts from Sacred Scripture that pertain to the sufferings of Our Lord Jesus Christ, this devotion was revealed by the Blessed Virgin Mary to St. Catherine de Ricci (1522-1590), a cloistered Dominican Tertiary of the 16th century. Today is her Feast Day!
"Our Lady is said to have desired Catherine, when she revealed this Canticle to her, to spread it through the convent as a form of prayer and contemplation supremely pleasing to our Lord. The venerable confessor, Fra Timoteo, wrote it out in full at the saint's dictation and submitted it for the approval of the Order. Padre Francesco di Castiglione had then become general, and he was not satisfied with allowing its use in San Vincenzio. By a circular letter to all monasteries of the Province he ordered it to be placed amongst the regular devotions and forms of prayer peculiar to the Dominicans; and it has remained celebrated amongst us, under the title Canticle of the Passion, as a monument to the tender love of our great Dominican saint, Catherine de Ricci, for her crucified Jesus"  (from St Catherine de' Ricci : Her Life, Her Letters, Her Community by Florence Mary Capes, p. 76-77).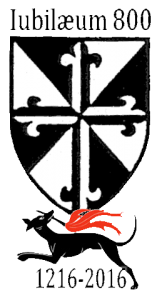 Like St. Francis, St. Catherine de Ricci experienced the stigmata and for 12 years, every Thursday Noon until Friday at 4:00 pm, accompanied Jesus in His Passion. The Canticle of the Passion was revealed to Catherine immediately after her first great ecstasy of the Passion. Our Lady desired Catherine to spread it as a form of prayer and contemplation pleasing to Our Lord.
The Canticle of the Passion is sung to the haunting tones of their Dominican chant, leading them to enter more deeply into the solemn mysteries of this season of Passiontide and Holy Week.
If you go to their website, you can hear a recording of the The Canticle of the Passion sung by the nuns. Pictorial meditations are included and the Latin verses are translated into English.
It is really beautiful!!