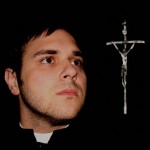 In 2007, Fr. Joseph Fessio of Ignatius Press and Cardinal Raymond Burke, then Archbishop Burke of St. Louis, teamed with actor and playwright Kevin O'Brien to launch the Theater of the Word production company to spread the Gospel message through stage, film, television, audio recordings and the internet.
Inspired by the clandestine theater company run by Karol Wojtyla in Nazi-occupied Poland, also called the Theater of the Word, this traveling company seeks to evangelize through drama.
Kevin hosts his own series The Theater of the Word on EWTN, and he and his actors appear regularly on the EWTN shows The Apostle of Common Sense and The Quest for Shakespeare.
Check out Kevin's interesting blog here. Many of our readers will recall the production of his play The Call, which his theater company performed at the IRL National Meeting last spring. Through the medium of drama, The Call offers profound insights into the nature and meaning of a "vocation."
To book The Call or any other Theater of the Word shows, visit http://www.thewordinc.org/ or call toll-free 1-888-840-WORD.