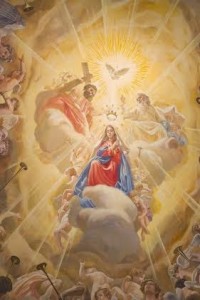 The Cistercian Nuns in Prairie du Sac, WI, in their summer 2014 newsletter, reminded us of the beautiful history behind the Feast of the Assumption.
According to Scripture and Church tradition, only three human beings have been taken up directly to Heaven: Enoch, Elijah and the Blessed Virgin Mary. Enoch was taken by God (Genesis 5:24) and Elijah was whisked into Heaven by a chariot of fire (2 Kings 2:11). The story of Enoch shows us the possibility of intimacy with God in a kind of interior Eden. Elijah's intimacy with God was the source of his participation in divine power on earth and the cause of his triumph over death. Mary, full of grace, "participates more than any other in Christ's reconciliation of man with God….The life of a contemplative nun, conceived in the self-gift exchanged between Mary and the Trinity, anticipates radically the life of heaven."
Here are some interesting facts behind the the Assumption taken from the newsletter and other sources:
Mary's death is dated 3-15 years after the Ascension.
St. Juvenal relates that Mary died in the presence of all of the Apostles but when her tomb in the Kedron Valley was opened, it was found to be empty. No one has ever claimed to possess first-class relics of the Blessed Virgin. Fr. William Most wrote: "Since the Church has never sought for bodily relics of the Blessed Virgin, nor exposed them for the veneration of the faithful, we have an argument which can be considered as 'practically a proof by sensory experience.'"
A document from the 4th century is the earliest printed reference to Mary's Assumption into Heaven.
The Feast of the Assumption was universally celebrated in the Church by the sixth century.
The feast was originally celebrated in the East, where it is known as the Feast of the Dormition, a word which means "the falling asleep." In Jerusalem, you can visit the Church of the Dormition of Mary on Mount Zion.
In 1950, Pope Pius XII proclaimed the dogma of the Assumption of Mary, universally held as part of Apostolic tradition.
In 1954, Pope Pius XII established the Feast of the Queenship of Mary.
All Cistercian houses are dedicated to Mary under the title of her Assumption.
Pope Pius XII wrote: "For she, by a completely singular privilege, conquered sin in her Immaculate Conception, and thus was not liable to that law of remaining in the corruption of the grave, nor did she have to wait for the end of time for the redemption of her body"