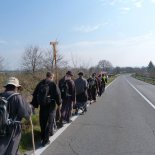 The Year of Consecrated Life is being recognized and celebrated in so many beautiful ways!  In the month of March, one group of 10 Franciscans walked the ancient Via Flaminia from beautiful Assisi to stately Rome in just seven days.  Filled with joy and prayer, these 10 men endeavored to travel from the land of Saint Francis, "a man of peace, a man of prayer", to the land of Pope Francis and his hallowed halls of Rome.
As Pope Francis attempts to carry on the great traditions of Saint Francis' devotion to poverty and service to the poor, these Franciscans travelled to honor him in his second year as our Holy Father.  Along the way, the men stayed with religious communities, parishes, and families.  Bowled over by the warmth and hospitality of all they met, they brought from each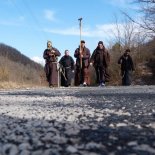 stop prayer petitions to lay before the Holy Father.  Collecting grains of incense in these stops as well, they symbolically infused those prayers into the incense which they handed to the Most Reverend J. Rodriguez Carballo along with a letter to be presented to the Pope.  The burning of incense at a future papal celebration will lift all these prayers to heaven.
The Franciscans had many reasons to embark on this physical and spiritual journey this year.  Not only is it the Year of Consecrated Life, it has also been 800 years since the granting of the indulgence of the Portiuncula and 500 years since the events which signaled the division of the Order.  They reportedly enjoyed the experience to the utmost.  As one of them writes; "The beauty of walking together allowed us to get to know each other, to tell our stories, to grow in fraternity, to learn how to help each other and give each other the time needed to find common rhythms."  Surely the beautiful springtime countryside didn't hurt!