Tag Archive
Apostleship of Prayer
Benedictine
Benedictines
Benedictines of Mary Queen of Apostles
Blessed Virgin Mary
Canada
Carmelites
conference
Conventual Franciscans
Discalced Carmelites
discernment
Dominicans
Dominican Sisters of Mary Mother of the Eucharist
Easter
EWTN
family
Fr. Hardon
Franciscans
LCWR
Lent
Little Sisters of the Poor
Mercedarians
new evangelization
Norbertines
Passionists
Poor Clares
Pope's Intentions
Pope Benedict XVI
Pope Francis
Pope John Paul II
prayer
priesthood
saints
School Sisters of Christ the King
seminary
Servants of Mary Ministers to the Sick
St. Francis de Sales
statistics
Vatican
video
Visitation
vocation
vocation director
Vocations
World Youth Day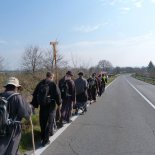 The Year of Consecrated Life is being recognized and celebrated in so many beautiful ways!  In the month of March, one group of 10 Franciscans walked the ancient Via Flaminia from beautiful Assisi to stately Rome in just seven days.  Filled with joy and prayer, these 10 men endeavored to travel from the land of Saint Francis, "a man of peace, a man of prayer", to the land of Pope Francis and his hallowed halls of Rome.
As Pope Francis attempts to carry on the great traditions of Saint Francis' devotion to poverty and service to the poor, these Franciscans travelled to honor him in his second year as our Holy Father.  Along the way, the men stayed with religious communities, parishes, and families.  Bowled over by the warmth and hospitality of all they met, they brought from each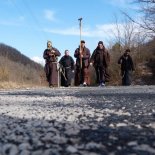 stop prayer petitions to lay before the Holy Father.  Collecting grains of incense in these stops as well, they symbolically infused those prayers into the incense which they handed to the Most Reverend J. Rodriguez Carballo along with a letter to be presented to the Pope.  The burning of incense at a future papal celebration will lift all these prayers to heaven.
The Franciscans had many reasons to embark on this physical and spiritual journey this year.  Not only is it the Year of Consecrated Life, it has also been 800 years since the granting of the indulgence of the Portiuncula and 500 years since the events which signaled the division of the Order.  They reportedly enjoyed the experience to the utmost.  As one of them writes; "The beauty of walking together allowed us to get to know each other, to tell our stories, to grow in fraternity, to learn how to help each other and give each other the time needed to find common rhythms."  Surely the beautiful springtime countryside didn't hurt!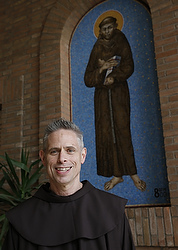 When Pope Francis was elected and announced that he had taken the name of Francis, Father Michael Perry, now the new Minister General of the Order of Friars Minor said, "I physically started shaking because this man has taken the name of the person we hold as a model who calls us to live faithfully the Gospel. And I started thinking how short we fall sometimes in living the Gospel."
The Holy Father has energized and challenged  the Franciscans by choosing the name of their venerable founder, St. Francis of Assisi. Pope Francis' simple life of poverty and care for the poor and marginalized is causing the Franciscans to "to rediscover our own authenticity, and calling us to simplify our lives and to speak less and demonstrate more who we are."
Father Perry was elected Minister General on May 22, 2013, the spiritual father to 14,000 Franciscans worldwide. The Indiana native said that St. Francis "brings us back to the very core of who we are as human beings. Francis is a convener of humanity, he helps people come together and see what really matters for their lives and that we can live together in peace, we can care for one another and we can care for our world."
To see the whole article, visit the Catholic News Service.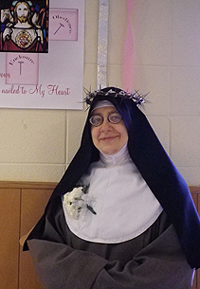 When a young woman knocks on the large wooden door of the Poor Clare Colettines in Rockford, Illinois to learn more about the sisters' way of life, she is sometimes put off by what she sees. She might be used to driving a nice car, carrying a Blackberry, and enjoying the pleasure of fine food and drink.
But what she sees are barefoot nuns walking quietly who then share a meal of beans and rice. She may have experienced a world of exciting nights out, of a seemingly endless possibility of relationships. But what she finds here is the solitude of a flickering candle in a plain chapel, and the joyful laughter of friends bound by lifelong vows.
Why, then, are women today attracted to the sisters' form of life? Maybe because they see the sisters living "according to the form of the Gospel," as inspired by their foundress, St. Clare–a motivation that has been sending them to their doors for eight hundred years.
Are you interested in learning more about Poor Clare life? If you are seriously considering this vocation, the sisters invite you to come and see if the voice of Christ is calling you to their life. A discernment visit from two to five days may be arranged on an individual basis by contacting Mother Dominica (pictured above), at the Corpus Christi Monastery in Rockford at 815-963-7369.
For a typical day in the life of the sisters see, "All Time Is at the Service of God." Or read about what Blessed John Paul II said about the difficulties of accepting Christ's invitation on the Poor Clares' youth page.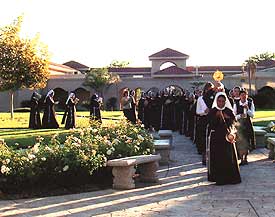 We wish all the friends and affiliates of the Institute on Religious Life a most blessed solemnity of the Immaculate Conception today.
In a particular way, we send our prayerful best wishes to the Franciscan Sisters of the Immaculate Conception, based in Northridge, California.
These Franciscan sisters' mission is to be in the Church and for the Church. The members live their vocation through a total surrender of themselves to the poor and humble Christ in prayer, sacrifice, and apostolic action, in imitation of the Blessed Virgin Mary. They are involved in catechesis, education, health care, and retreat ministry.
The congregation was founded in 1874 in Mexico City by a Franciscan Priest named Fray Refugio Morales and three young women. Guided by the Holy Spirit and, in the midst of religious persecution, they started to teach the Christian life to children and to take care of the elderly in their own homes, encouraging everyone not to be afraid of living their Catholic faith as sons and daughters of God.
For more information on this wonderful community, click here.
A fear of not having all the answers is stopping many young women from seeking a beautiful vocation as a religious sister, says a Franciscan sister from Illinois in a new video.
"That's where the fear is," explains Sr. Michael, of the Daughters of St. Francis of Assisi. "The person is hesitating to take that next step because they don't have all the answers. You are not going to have all the answers, until you take that next step. And then the answers will come."
In a candid, unscripted video interview, Sr. Michael, Vicar Provincial of the congregation, provides fresh insight on overcoming reluctance in pursuing a vocation, as well as the spiritual benefits of living in a community dedicated to following Christ through the life of St. Francis.
"Let me tell you what it's like to be in a community of sisters," Sr. Michael explains in a surprisingly popular 10-minute video. "It's a mystery at first because you realize that there is a spiritual bond with each one of them. . . . We all come from different parts of the world and different parts of the country. Yet we all have that bond, that common bond. . . . That bond follows us into eternity."
The video also features an interview with the congregation's bishop, Most Rev. Daniel R. Jenky, Bishop of Peoria, who says, "I am very happy to say I have great admiration for the zeal of the Daughters of St. Francis of Assisi."
The Sisters' provincial motherhouse is in Lacon, Illinois, and the congregation has its general house in Bratislava, Slovak Republic. They have been operating St. Joseph Nursing Home in Lacon since 1964.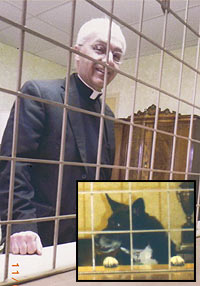 The Poor Clares of Rockford, Illinois have had a spiritual bond with the Diocese of Bismarck, North Dakota, that goes back a few years. That bond increased dramatically October 19th, when their former chaplain, Msgr. David D. Kagan, Vicar General of the Diocese of Rockford, was named the Bishop-elect of Bismarck.
Several years ago, the vocation director for Bismarck asked the sisters to pray for all of the diocese's seminarians. The Poor Clares had been faithful to that commitment ever since, and now their chaplain in Rockford will become the new shepherd in Bismarck!
The sisters were delighted to spend an hour with Bishop-elect Kagan in their visiting parlor recently, learning all about his new diocese.
A fellow "worker" at the chancery office, Border collie Dash (whose duty it was to keep the geese off the chancery grounds), will accompany the Bishop-elect to North Dakota. "At least he will enjoy the snow," comments Msgr. Kagan.
There is a wonderful presence of religious men and women in the Bismarck diocese. However, since the diocese does not have a cloistered contemplative community, the Poor Clares are spiritually adopting the Diocese of Bismarck along with its new bishop!
The desire of St. Clare–that her sisters support the Mystical Body–is alive and well.
Today the Church celebrates the feast of St. Elizabeth of Hungary, a 13th-century lay Franciscan known for her charity toward the poor and needy in her midst. May her prayers and holy example inspire us to grow in our loving service of our neighbor.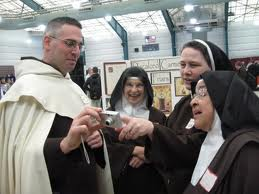 On October 14, 2011, Franciscan University of Steubenville will host nearly 100 national and international religious communities and dioceses at its annual Religious Vocations Awareness Day, the largest vocations fair in the country.
"Vocation Awareness Day is a great time to connect with Catholics from different traditions and to see the many ways it is possible to follow Jesus," says Father Rick Martignetti, O.F.M., director of Franciscan University's Priestly Discernment Program. "Our students always find it inspiring to participate and the vocation directors are renewed by witnessing the active faith life on our campus."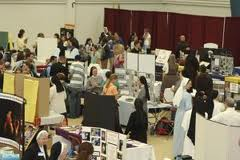 Religious Vocations Awareness Day will take place in Finnegan Fieldhouse from 10:00 a.m. to 4:00 p.m. The event is free and open to the public. It features religious orders from eight major spiritualities, including Franciscan, Benedictine, Ignatian, Salesian, and Carmelite. Among the many dioceses to be represented are Arlington, Chicago, New York, Greensburg, Pittsburgh, and Wheeling-Charleston. Some vocation directors will come from as far away as Spain and Canada.
Attendees can stroll among the displays while learning more about the charism and apostolic mission of each order.
For more information, contact the Priestly Discernment Program at 740-283-6495 or e-mail vocationsday@franciscan.edu.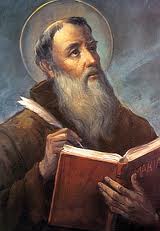 Today is the feast of St. Lawrence of Brindisi. When reference is made to a "St. Lawrence," however, we usually think of  the third-century deacon and martyr who is even mentioned in the Roman Canon (Eucharistic Prayer I). This latter St. Lawrence, given his special patronage of those who barbecue, is indeed a fine summertime saint in his own right, but his feast isn't till next month.
Today's St. Lawrence (1559-1619) was a Capuchin Franciscan priest who led, even by secular standards, a most remarkable life. One commentator has gone so far as to call him "the greatest man and the greatest saint yet produced by the Capuchin Franciscan Order." Surely the excellence of his preaching was recognized by Blessed John XXIII, who named him a Doctor of the Church in 1959. Read the rest of this entry »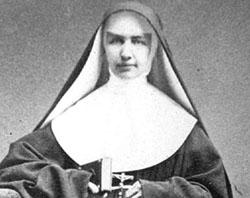 Last May we noted in this blog that the relics of Blessed Marianne Cope were  being returned to Hawaii. Shortly before St. Damian of Molokai's death, Mother Marianne and other Franciscan Sisters of Syracuse came to carry on St. Damien's amazing work in the leper colony toward the end of the nineteenth century.
Now Catholic News Service reports that the alleged miracle in support of Mother Marianne's canonization was approved by a Vatican medical board, an important step toward her becoming recognized as a saint. Read more about it here.