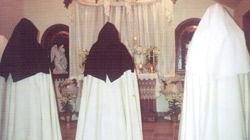 In their Christmas 2013 newsletter, the Discalced Carmelites of Alexandria, South Dakota, mention that they are beginning a new foundation in Hague, North Dakota, at the invitation of Bishop David Kagan of Bismarck. Forty acres of land including a farmhouse, outbuildings and a pond make up the property that was purchased by the Diocese. After suitable repairs are completed, the Carmel of the Holy Face will come into existence. They were blessed to receive donations from another Carmel of an altar, tabernacle, grating for the Choir, choir benches, Carmelite statues and books, and much more.
The Monastery of Our Mother of Mercy and St. Joseph in Alexandria was founded 17 years ago as a foundation from Buffalo, NY. It has been led with motherly wisdom by Mother Marie Therese of the Child Jesus during all those years. She has taught "us little ones to follow Jesus and Mary and to treasure and persevere in Our Carmelite vocations."
The Carmelite Monastery in Alexandria has at least 19 members, including one novice, one postulant and five who made their first profession. They obviously are doing well enough to expand and bring blessings upon another Diocese!
The new foundation has not been without its challenges. Yet they quote St. Raymond of Penyafort who said, "May you never be numbered among those whose house is peaceful, quiet and free from care….Your purity of life must be made purer still, by frequent buffetings, until you attain perfect sincerity of heart."
They also quote Tertullian who explains that while the old way of prayer "was able to rescue from fire and beasts and hunger even before it reached its perfection," Christian prayer "gives the armor of patience to those who suffer, who feel pain, who are distressed. It strengthens the power of grace, so that faith may know what it is gaining from the Lord, and understand what it is suffering for the name of God."
How happy it is to dwell in His house, in imitation of and with Mary in
Nazareth, as well as at the foot of the Cross, comforting Him through our
sacrifices, collecting and disseminating by prayer the grace won by Him through
the shedding of His Blood – under her gaze, to leave all to find All and to
spend one's life in His Presence!