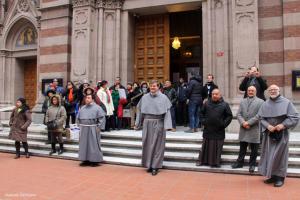 On Sunday, January 4, 2015, the Conventual Franciscans at St. Anthony of Padua Church in Istanbul, Turkey, received a surprise visitor – His Holiness Bartholomew I, the Ecumenical Patriarch of Constantinople. It's rather like having Pope Francis suddenly pop over for an afternoon!
Patriarch Bartholomew is regarded as the spiritual leader of the world's 300 million Eastern Orthodox Christians. He is the 270th Patriarch of the see of Byzantium (Constantinople), a see that traces its roots back to St. Andrew the Apostle.
The Patriarch came to St. Anthony Church to view the exhibit: "ENCOUNTERS OF LASTING LOVE", which was set up in the courtyard of the church on the occasion of the visit of Pope Francis. The exhibition was curated by Friar Martin Kmetec, a Conventual Franciscan from Slovenia, who made the news in 2006 when he was threatened with death by some Turkish Islamic youth but managed to thwart the attack.
When Pope John XXIII was Vatican Ambassador to Turkey, he preached at St. Anthony's, the largest Church in Istanbul, for ten years. Amazingly, the Holy Father was fluent in Turkish and for this reason, he was known as the Turkish Pope!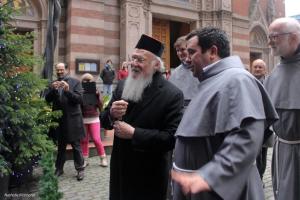 Friar Iulina Pişta and a few guests welcomed the Patriarch despite the short notice. The exhibit highlighted three ecumenical moments: the Jerusalem meetings between Pope Paul VI and Athenagoras I, and later Pope Francis and Bartholomew I, as well as the recent meeting that Pope Francis and Bartholomew I had in Constantinople (Istanbul) in November of 2014.
Later, Patriarch Bartholomew visited the Basilica of St. Anthony where a group of Filipinos welcomed him at the church door with Christmas carols. Inside the church, the Patriarch lit candles while Romanian clerics sang. As he visited the manger scene, he met and blessed Friar Giuseppe Robu's sister and her family who were there for the baptism of their child. Patriarch Bartholomew then blessed an icon depicting Peter and Andrew and affixed his signature on the back. He then went down to the crypt to see the Byzantine style paintings.
The meeting symbolizes the importance that the Churches of the East and the West place on ecumenical dialogue. It also highlights the courage of the Christian community in an Islamic country where they are a very tiny minority.
During his visit to Turkey in November 2014, Pope Francis said, "We are already on the way, on the path towards full communion and already we can experience eloquent signs of an authentic, albeit incomplete union. This offers us reassurance and encourages us to continue on this journey. We are certain that along this journey we are helped by the intercession of the Apostle Andrew and his brother Peter, held by tradition to be the founders of the Churches of Constantinople and of Rome. We ask God for the great gift of full unity, and the ability to accept it in our lives. Let us never forget to pray for one another."