Tag Archive
Apostleship of Prayer
Benedictine
Benedictines
Benedictines of Mary Queen of Apostles
Blessed Virgin Mary
Canada
Carmelites
conference
Conventual Franciscans
Discalced Carmelites
discernment
Dominicans
Dominican Sisters of Mary Mother of the Eucharist
Easter
EWTN
family
Fr. Hardon
Franciscans
LCWR
Lent
Little Sisters of the Poor
Mercedarians
new evangelization
Norbertines
Passionists
Poor Clares
Pope's Intentions
Pope Benedict XVI
Pope Francis
Pope John Paul II
prayer
priesthood
saints
School Sisters of Christ the King
seminary
Servants of Mary Ministers to the Sick
St. Francis de Sales
statistics
Vatican
video
Visitation
vocation
vocation director
Vocations
World Youth Day
The news from Catholic Ireland has not been all that positive lately. Therefore, it is wonderful to see a vocations video, celebrating the Year of Consecrated Life, that highlights the men and women who have said yes to God in that country. A country that sent so many missionaries to the United States and elsewhere.
According tothe website VocationsIreland.net, in the early 1960's, there were around 30,000 men and women religious living in 2,000 communities. By 2013, the number was 8,500 men and women religious living in 800 communities. The communities attracting vocations in recent years have been the Dominicans, the Redemptoristines (sisters), the Benedictines at Glenstal, the Little Sisters of the Poor, the Cistercians, the Franciscans, the Mercy Sisters, the Pallotines, the Passionists, the Carmelites, the Poor Clares, the Missionaries of the Sacred Heart, the Sisters of St Clare, the Jesuits the Franciscan Missionaries of Mary and the Dominican Sisters.
If you are interested in any of the above communities, there is a clickable list of all the congregations in Ireland here.
One of the featured communities are the Redemptoristines featured below. God bless them all!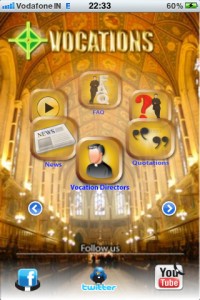 Answering the "call" is getting a little easier these days, and in a surprising place. Those who want more information on joining the Catholic priesthood in Ireland need look no further than their smart phone.
The Irish Bishops' Conference is eagerly promoting its new "Vocations App."
The app was launched Monday by Down and Connor Auxiliary Bishop Donal McKeown, chair of the episcopal conference's Vocations Commission. The first in the world, this new app is available for download free of charge from the Apple app store.
The purpose of the app is to "assist current and future generations seeking to investigate and find information on vocations to the diocesan priesthood in Ireland," announced the bishops' conference in a press release.
The app was developed by a Dublin company, Magic Time Apps, and designed by Father Paddy Rushe of the Archdiocese of Armagh.
The launch of the app also heralded the official handoff of the position of National Coordinator for Diocesan Vocations from Father Rushe to Father Willie Purcell of the Diocese of Ossory.
Some of the highlights of the Vocations App include:
— contact details and statistics on the 26 dioceses of Ireland
— frequently asked questions to assist a person to discern his vocation, including questions such as "What does a priest do all day?" and "How long do you have to study?
— news feed running from the national vocations website
— "tests" to enable the user to reflect on vocation potential
Anticipated updates for the Vocations App include a "prayer counter" for those who want to pledge prayers for vocations, and an image gallery giving a window into the life of a seminarian.
Courtesy of Zenit.