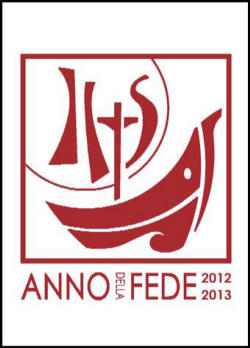 The Holy See has unveiled the logo for the Year of Faith which kicks off on October, 11, 2012, the 50th anniversary of the beginning of Vatican Council II. What a beautiful image showing the barque of Peter representing the Church as well as the IHS in the sails, the mast as the cross and the sun representing the Eucharist.
The Year of Faith is a beautiful complement to the New Evangelization which calls for all Christians to deepened their relationship with Jesus Christ and to be a witness of that faith with others.
What a beautiful time to rediscover the history of the Catholic Church in America. In October, two of our most illustrious blesseds will be canonized: Kateri Tekakwitha and Marianne Cope. One special event that caught my eye will occur on June, 2, 2012, the Solemnity of Corpus Christi, when the Blessed Sacrament will be adored at the same time all over the world. Wow! A billion Catholics adoring Jesus at the same time! If we can muster this strength, we can change the world!
Archbishop Rino Fisichella says, "The crisis of faith is a dramatic expression of an anthropological crisis which has abandoned man to his own devices. We must overcome the spiritual poverty affecting so many of our contemporaries who do no longer perceive the absence of God from their lives as a void that needs to be filled. The Year of Faith, then, is an opportunity which the Christian community offers to the many people who feel nostalgia for God and who desire to rediscover Him."