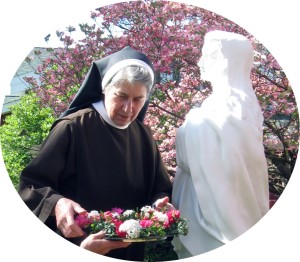 On this beautiful Feast Day of Our Lady of Mount Carmel, it is wonderful to highlight the Golden Jubilee of a daughter of Carmel, Sr. Tanya of the Carmelite Monastery in Latrobe, PA.
Sr. Tanya (born Tatiana) knew from age six that she had a desire for God. Though she frequently went to daily Mass with her mother at a nearby Carmel, she first spent some time with the Maryknoll Sisters before coming to Carmel in 1962. The Carmel in Latrobe was founded from the Carmel in Loretto, PA, in 1961. Sr. Tanya was one of the first two women to enter the new Carmel.
Sr. Tanya is a talented artist who painted the images of the Way of the Cross that are hanging in the the Chapel. She is an avid gardener and has great devotion to Our Blessed Mother and skillfully makes Rosaries to sell in their store.
Her sisters say that her fidelity to God and to the Queen of Carmel is manifest in her generosity and self-giving love.
With a public celebration of the Eucharist in August followed by a reception, the sisters will thank God for His goodness to her and to their community.  Later this year, the Carmelites will begin a year-long celebration preparing for the 500th birthday of St. Teresa of Avila, who reformed the Carmelite Order.
May Sr. Tanya have many more joyous and fruitful years ahead, all to the glory of God!