Tag Archive
Apostleship of Prayer
Benedictine
Benedictines
Benedictines of Mary Queen of Apostles
Blessed Virgin Mary
Canada
Carmelites
conference
Conventual Franciscans
Discalced Carmelites
discernment
Dominicans
Dominican Sisters of Mary Mother of the Eucharist
Easter
EWTN
family
Fr. Hardon
Franciscans
LCWR
Lent
Little Sisters of the Poor
Mercedarians
new evangelization
Norbertines
Passionists
Poor Clares
Pope's Intentions
Pope Benedict XVI
Pope Francis
Pope John Paul II
prayer
priesthood
saints
School Sisters of Christ the King
seminary
Servants of Mary Ministers to the Sick
St. Francis de Sales
statistics
Vatican
video
Visitation
vocation
vocation director
Vocations
World Youth Day
On January 23, the U.S. Conference of Catholic Bishops Secretariat for Clergy, Consecrated Life and Vocations issued the results of a survey of 107 men and women religious who professed perpetual vows in 2013. The annual survey was conducted by the Georgetown University-based Center for Applied Research in the Apostolate (CARA).
There were some interesting discoveries in the data.
First, the youngest respondent was 26, the oldest 73! Don't give up hope if you have a call to a belated vocation! Most respondents were born in the USA but the next most common country of origin was Vietnam!
Almost half of the respondents had four or more siblings. Compared to the rest of the Catholic population, they were more likely to have gone to a Catholic high school and college.
Youth activities were important. World Youth Day, Newman Centers, Campus Ministry were common experiences. More than half were discouraged from considering a vocation, women more so than men.
Almost all participated in a vocation program such as a "Come & See." Some had college debt which delayed entrance, on the average two years. There are foundations and groups that can help. Please visit our Affiliates: The Labouré Society and the Mater Ecclesiae Fund for Vocations. The Serra Fund for Vocations and the Knights of Columbus Fund for Vocations are also wonderful organizations.
For more information on the study, please visit the USCCB website.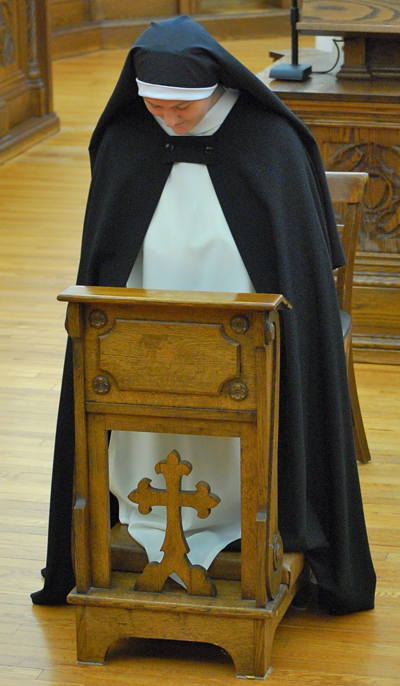 Mater Ecclesiae Fund for Vocations (MEFV) just came out with their latest newsletter highlighting the milestones of some of the men and women who are able to pursue their religious vocation because of the support of the donors who are helping to reduce their educational debt. It is their mission to eliminate the obstacle aspirant's student loans present to answering their vocation.
July 2012 – Angela entered the Carmelite Sisters of the most Sacred Heart of Los Angeles
July 2012 – Marcion, a volunteer from our beloved Marytown where we reside, entered the Conventual Franciscans of St. Bonventure Province
July 2012 – Sr. Mariana professed final vows with the Dominican Sisters of St. Cecilia in Nashville, TN. Srs. Ann Dominic and Rose Miriam made their first profession. Sr. Cora Marie entered the Novitiate.
July 2012 – Sr. Marie St. Francis of the Crucified One received the habit of the Poor Clares of Perpetual Adoration in Hanceville, AL.
August 2012 – Sr. Mary Gemma entered the novitiate of the Franciscan Sisters, TOR, of Penance of the Sorrowful Mother.
August 2012 – Bro. Kevin was one of four men making perpetual professions with the Canons Regular of St. John Cantius. He is MEFV's first seminarian to make perpetual vows!
August 2012 – Sr. Marie Therese made her first profession with the Sisters of Our Lady Immaculate, Ontario, Canada
August 2012 – Fra Anthony Serviam Maria made his final profession of vows with the Franciscan Friars of the Immaculate. He was turned away from several orders because of his student debt but fortunately the FFI vocation director was familiar with MEFV.
August 2012 – Angela was received into the Poor Clares of Corpus Christi Monastery, Rockford, IL
Sr Mariana, OP, said, "If I had to wait until my debt was paid off it would have been years and years before I could enter. The gift that I received from (MEFV) enabled me to follow the call I was receiving from the Lord." She was ecstatic to realize that there were people out there who wanted to help her, though they had never met her. "It is one of the greatest gifts that I have received – that I am still receiving."
Mater Ecclesiae Fund for Vocations operates the St. Joseph Student Debt Relief Grant Program for religious life and the St. John Vianney Student Debt Relief Grant Program for the parish priesthood. For more information, please visit their website.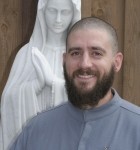 Often, educational debt is a stumbling block to a religious vocation. Take the case of Friar Anthony Serviam Maria, a simply professed Franciscan Friar of the Immaculate. In a story in Our Sunday Visitor (4/22/12), Friar Anthony tells how as a layman he went on a retreat with the Franciscan Friars of the Renewal where Fr. Stan Fortuna challenged him to name his passion. What he realized was that what he loved (wilderness survival and primitive skills) did little for God. Feeling called to religious life but needing to pay down his debt, he applied for a grant from the Mater Eccelsiae Fund for Vocations, an organization that helps  to eliminate the obstacle an aspirant's student loans present to answering his vocation.
Today Mater Eccelsiae is making payments on his remaining debt.  The man who lived a "pagan life" searching for something found Someone.