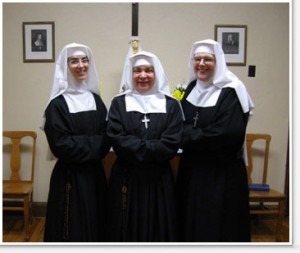 Within the last year, the Sisters of the Visitation of Toledo, Ohio, have had many reasons to celebrate. In February, Sr. Josefa Maria made her Solemn Profession and Sister Marie was received into the Novitiate, and in March, Sister Susan pronounced first vows.
And the sisters were able to experience "Hollywood" firsthand! With the permission of their Bishop, Holy Trinity Apostolate came to film some scenes for the movie "Leonie!" The film is based on the life of Leonie Martin, one of the sisters of St. Therese of the Child Jesus. Leonie had a difficult childhood and after several attempts was professed a Visitandine at the monastery in Caen, France. The movie still needs a distributor but the sisters were able to see the finished product in July.
The Visitation community around the world encourages everyone to explore on foot or via the internet the Visitandine museum, Musée de la Visitation, in Moulins, France where  chalices, chasubles and silk liturgical items that have been produced and acquired by the Sisters of the Visitation are on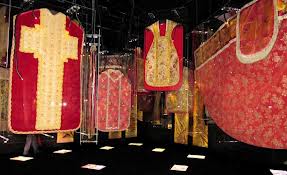 display.  A new 5 minute video with music by Vivaldi and English text, gives people a glimpse into these liturgical treasures.
The theme is "Sacred Silk." Unique in all of France, these artifacts illustrate the genius and creativity of the weavers in the production of silk, interwoven with gold and silver, from the late sixteenth century. Ten thousand objects have been assembled,many of them on loan from Visitation monasteries from 19 countries throughout the world.
On the occasion of the feast of St. Jane de Chantal in 2010, the museum lent His Holiness Pope Benedict XVI jewelry and vestments for the celebration of the Mass.