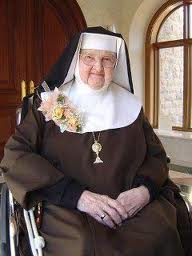 On May 20, 2012, the Poor Clares of Perpetual Adoration marked the 50th anniversary of the foundation of Mother Angelica's Our Lady of the Angels Monastery in Alabama. The monastery was dedicated on May 20, 1962.
By the early 70's the sisters were duplicating Mother's talks and printing "mini" books to explain the basics of the Faith. And in 1981, Mother launched Eternal Word Television Network (EWTN) in the monastery garage and the rest as they say is history.
I remember visiting EWTN in the late 90's and attending one of Mother's Live shows. She wandered around the set before the show began greeting people as if she didn't have a care in the world and sat down with only seconds to spare. Everything came from a heart prepared by and with prayer. I had a message to give to her from a mutual friend that day and felt somewhat awkward doing it just minutes before she was to go on the air but she gave me her full attention and spent sometime talking with me. I was very impressed.
I thank God for EWTN which gave my housebound relatives a participation in the life of the Church and great consolation in the weeks before their deaths. May EWTN flourish and grow to the ends of the earth in all the languages of the human race.
For the full article in the National Catholic Register and many reflections on the 50 years of history, click here.