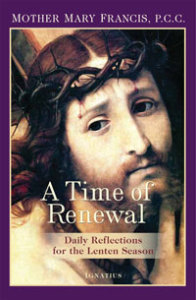 Just in time for Lent, Ignatius Press has released a book of profound and timeless Lenten mediations from Mother Mary Francis, PCC, the abbess of the Poor Clare Monastery of Our Lady of Guadalupe in Roswell, New Mexico.
Mother Mary Francis (1921–2006) was abbess for over 40 years and is most famous for her classic book on Poor Clare life, A Right to be Merry. This new work, entitled A Time of Renewal: Daily Reflections for the Lenten Season, presents beautiful meditations on the liturgical season of Lent, revealing the treasures of the liturgy to Christians in all walks of life. Her insight into Holy Scripture and her poetic way of writing make her reflections on the daily Mass readings fresh and attractive.
As the Ignatius Press press release says:
Mother Mary Francis excels in the art of persuasion, aware that the human heart cannot be forced but only gently led to holiness. She makes this goal attractive and desirable by tirelessly explaining why striving for holiness is the happiest and wisest way to live. This book provides a wealth of material for plundering the riches of the Lenten season and for deepening one's spiritual life. Her meditations are profound and timeless, not changing from year to year, thus providing a lifetime of Lenten meditations in this one volume.
To order, visit the Ignatius Press website (www.ignatius.com) or call: 1-800-651-1531.