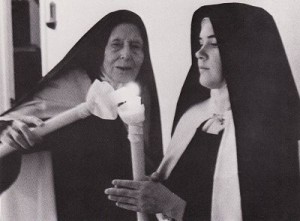 This year, the Carmelites in San Rafael, California, are celebrating the 50th year of their foundation. The Carmel of the Mother of God was founded on November 24, 1965, from the Carmelite Monastery at Carmel-by-the-Sea (a great place to visit for the scenery alone!).
It was Mother Miriam of the Trinity, OCD, the foundress, who received an interior call to found a Carmelite monastery specifically in response to Our Lady of Fatima's request to pray for the conversion of sinners and for the Russian people. As part of this endeavor, the sisters studied the Russian language, liturgy, spirituality and history with help from priests from a Catholic Russian church. They still however observe the Latin rite and the regular Carmelite horarium.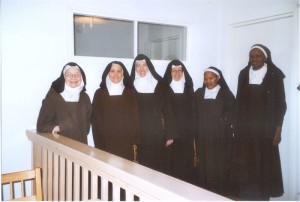 While the sisters were unable to establish a foundation behind the Iron Curtain, two of their sisters were able to start a new foundation in neighboring Finland in November of 1988. Today, this monastery in Espoo, Finland,  has ten cells and a chapel, with six sisters praying especially for the people of Finland. It is the only cloistered Catholic monastery in the entire country!
After the breakup of the Soviet Union, the sisters purchased a small apartment in downtown Moscow for a tiny Carmel. The difficulties involved and the limited number of sisters for a new monastery caused the sale of this apartment to the Divine Word Missionaries who have established St. Olga's Parish with the purchase of a nearby building. In that first apartment is still an Icon of the Infant Jesus painted by Mother Miriam which is now seen by the Russian faithful.
The community in San Rafael numbers seven with four American sisters, one sister from England, one sister from Africa, and one sister from the Philippines. To celebrate their jubilee, they have three masses scheduled during the month of November to be celebrated by Most Rev. John Wester, Archbishop of Santa Fe (Nov. 1); Very Rev. Stephen Watson, O.C.D., Carmelite Provincial of the California/Arizona Province (Nov. 14); and Most Rev. Patrick McGrath, Bishop of San Jose (Nov. 24).
"… You will see that the majority of these houses have been founded not so much by man as by the mighty hand of God, and that, if we do not stand in His way, His Majesty loves to further the work He is doing."        St. Teresa of Avila