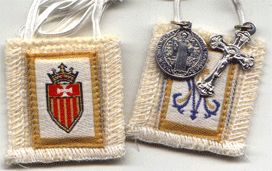 The scapular of the Order of the Blessed Virgin Mary of Mercy has been in demand by many of the faithful over the centuries. In recent months, its demand in the U.S. has increased.
The Order of Mercy (Mercedarians) is looking for a cloistered religious community who would like to make the scapular for distribution. The Mercedarian community in the U.S. is growing in size, and due to the importance of this part of their apostolate, they are expanding their website to include a page that will make the sacramental available.
The Mercedarians were founded by St. Peter Nolasco in 1218 to redeem Christian captives from their Muslim captors.  In addition to the vows of poverty, chastity and obedience, their members take a special fourth vow to give up their own selves for others whose faith is in danger.  The Order exists today in 17 countries, including Spain, Italy, Brazil, India, and the United States. In the U.S., its student house is in Philadelphia, and it also has houses in New York, Florida, and Ohio.
The Order is seeking a scapular maker in the United States, and is willing to pay a fair price for bulk orders. This would be a great cottage industry for a religious community.
For more information, contact Fr. Joseph Eddy, O. de M., at 267-670-0503 (cell), or vocations@orderofmercy.org.