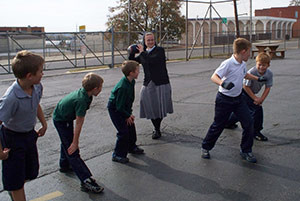 During high school, Sr. Teresa Pandl was the captain of the girls soccer team and led a typical life full of friends and soccer. However, she felt a longing in her heart that God was calling her to more than a typical life, He was calling her to a life as a religious sister with the Sisters of St Francis of the Martyr of St. George.
Sr. Teresa Pandl was the toughest player on the girls soccer team in high school and was the best slide tackler in the history of the school according to her former coach. It was at the beginning of her high school career that she first had the desire to serve God by serving his people after going on a mission trip. She did not, however, think this service would be as a religious sister. The trip was her first encounter with extreme poverty and had a profound impact. The experience Sr. Teresa had on her mission trip stayed with her throughout high school and as she attended the University of Wisconsin-Milwaukee her freshman year of college. She felt unsatisfied during her freshman year transferred to Franciscan University in Stuebenville in order to be surrounded by "faith-filled people."
By transferring she was able to study Theology and Catechetics while also playing on the soccer team. She originally thought she would pursue a career as a youth minister, however, the connections she made with religious on campus made her notice the deep joy they had. Sr. Teresa had a strong indication that God was calling her to be a religious sister at Franciscan University. She spoke with several orders and decided to enter with the Sisters of St Francis of the Martyr of St. George after visiting their motherhouse in Alton, Illinois.
As the director of religious education at Holy Spirit Parish in Overland, Kansas, Sr. Teresa still leads an active life. She aids in sacramental preparation and oversees religious education for students of public schools. She sees her vocation as an adventure and says, "I don't know where he will take me or who he is going to bring into my life. There have been many surprises already and I am sure there are many more ahead."