Mr. John Tipperman of The Mary Cross Foundation believed that "if you rebuild it they will come again." And come again they did as the newly renovated St. Felix Oratory in Huntington, Indiana, becomes a new home for the Dominican Sisters of Mary, Mother of the Eucharist.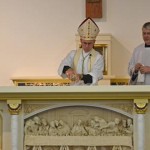 On March 3, 2012, Bishop Kevin Rhoades of the Fort Wayne-South Bend Diocese said mass and blessed the newly renovated building where twenty of the sisters, who will soon be teaching in area Catholic schools, will reside.
Built in 1928, the monastery was a Capuchin novitiate named after St. Felix of Cantalice, Italy, who lived from 1515 to 1587. It's most amazing treasure is the room where Ven. Solanus Casey lived from 1946 to 1956. The former friary was sold almost 30 years ago but even though the building left Catholic hands, the former owners kept Solanus' room padlocked with his brown habit lying across his bed.
There are several interesting stories and a video to watch on this amazing series of coincidences that brought a man with a vision and a sister with a mission together.