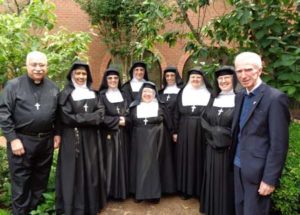 We have just celebrated the Feast Day of St. Jane Frances de Chantal on Saturday, so it is wonderful to learn of the recent election results from the Assembly of the First Federation of the Order of the Visitation held  on July 26-28, 2017.
Meeting at the Visitation Monastery in Rockville, Virginia, the Assembly participants elected a new Federation President and Council. Sister Sharon Elizabeth (Toledo, OH) was elected Federation President. She will be assisted by her Council comprised of Mother Rose Marie (Mobile, AL), Mother Marie de Sales (Toledo, OH), Sr. Mary Emmanuel (Tyringham, MA) and Sr. Frances Marie (Rockville, VA). Mother Miriam Rose (Tyringham, MA) and Mother Teresa Maria (Snellvile, GA) were elected as alternate councilors.
St. Jane Frances was the co-foundress of the Order of the Visitation along with St. Francis de Sales. Founded in 1610,  in Annecy, Savoy (France), their desire was "to give to God daughters of prayer, and souls so interior that they may be found worthy to serve His infinite majesty and to adore Him in spirit and in truth."
The Visitation Order was founded for women who could not handle the austerities of the traditional cloistered life but who truly had a call from God to give themselves entirely to God as a spouse of Christ. They also traditionally accept belated vocations (check each community for the information).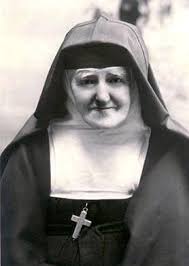 It is sometimes forgotten that St. Thérèse of Lisieux had a fifth sister, Léonie, who was not a Carmelite. Léonie was a difficult child and a poor student who nevertheless desired to enter religious life. Her mother once wrote that unless a miracle was worked, "my Léonie will never enter a religious community." St. Thérèse predicted that after her death, Léonie would enter the Visitation Order and take her name and that of St. Francis de Sales. Indeed it came to pass. Léonie's name in religion was Sr. Françoise-Thérèse  and her cause for canonization was opened in  Caen, France on July 2, 2016, the anniversary of her profession (1900).
The six monasteries of the First Federation (which are cloistered) are located in Mobile, AL, Snellville, GA, Rockville, VA, Philadelphia, PA, Tyringham, MA and Toledo, OH.  The four highlighted are IRL affiliates.