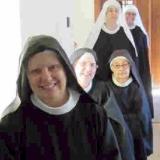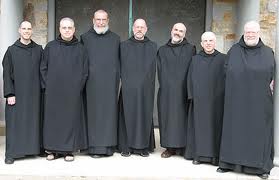 Something you don't find everyday in the modern world, much less in the U.S., is a twin community of nuns and monks. Such a community of Benedictines exists in Petersham, MA. The St. Scholastica Priory houses a group of nine nuns and the Monastery of St. Mary, a group of seven monks.  Both live a contemplative life of prayer in service to God, the Church and world.
St. Scholastica Priory is an independent priory of Pontifical Right. St. Mary's is a dependent house of the Abbey of Pluscarden in Scotland. When there are enough members in the men's community, they will become an autonomous community as is typical for Benedictines.
The nuns and monks live a monastic life according to the Rule of Saint Benedict and pray the office in Latin using Gregorian Chant , except for Matins and Vespers. Monks from St Mary's serve as the sisters' chaplains. The monks' Novus Ordo Mass is in English with sung parts in Latin and Greek.
As it says on the St. Scholastica website: The Benedictine life is both ordinary and human, extraordinary and divine. It is ordinary and human because St. Benedict in his Rule encourages us to get on with the business of monastic life; it is extraordinary and divine because it is a response to a call from God and it is a life lived for others.
The sisters will hold a Monastic Experience weekend for young women who may be called to this life from February 15-17, 2013.  Please email smangkloss333@aol.com or call 978-724-3213 for more information.
To thee, therefore, my speech is now directed, who, giving up thine own will, takest up the strong and most excellent arms of obedience, to do battle for Christ the Lord, the true King. Rule of St. Benedict