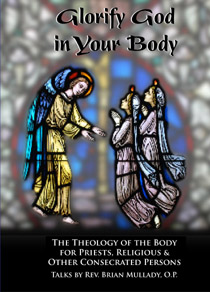 Blessed John Paul II has given the Church a great gift in his profound teaching on the theology of the body. The Holy Father emphasized that traditional Catholic teaching on marriage and the family is not in any sense rooted in a contempt for matter or for the body, but on the Incarnate love of the Trinity. This teaching not only helps us understand the Church's teaching on hot-button issues such as divorce, contraception, and homosexulity, but also the gift of consecrated virginity or celibacy for the sake of the kingdom, as a complete gift of self to God. 
On this subject, the
Institute on Religious Life
highly recommends 
this 3-CD audio set
by Fr. Brian Mullady, O.P.  Father convincingly shows that Church teaching on human sexuality offers profound spiritual insights for deepening one's commitment to live with "an undivided heart" and to serve God as an eschatological witness of His Kingdom.